Serving Bloomingdale, Carol Stream, and Hanover Park
Return to Headlines
Update on Return to In-Person Learning Timing & More - 11/20/20
Dear CCSD93 Community,
As countywide health metrics continue to surge at alarming rates, I share with you the following critical information:
The District is now targeting a mid-January transition from our current fully remote learning environment back to the Hybrid (the combination of in-person and remote) Learning environment. This is a tentative target date. We will continue to be in contact with parents with more information.





Starting Monday, November 30, the elementary school schedule will shift away from the AM/PM model that has been in place and back to the fully remote schedule that was in place at the beginning of the school year until elementary students return to the Hybrid Learning environment. This will not change the beginning and ending hours of the school day, but it will change the timing of learning opportunities throughout the school day.




The middle school and ECC schedules will continue in their current formats until their students return to the Hybrid Learning environment.

Background Information Regarding Mid-January Target for Return to Hybrid Learning
The Board of Education and I are disappointed to officially push back our target date for a return to the Hybrid Learning environment. We believe strongly that in order to realize CCSD93's mission of maximizing the academic, social and emotional potential of each student, we must provide in-person learning opportunities for students whose families prefer them as soon as possible while protecting the health and safety of our students, staff and families.
However, we have continued to review health data daily, speak regularly with officials at the DuPage County Health Department and evaluate the Return to In-Person Learning factors below. The health data continues to show the transmission of COVID-19 is increasing rapidly. In addition to the health concerns associated with that increase, our ability to appropriately staff in-person learning remains unmanageable because the corresponding quarantine and isolation guidelines prevent the ability of those who have tested positive or been in close contact with someone who has from entering our buildings.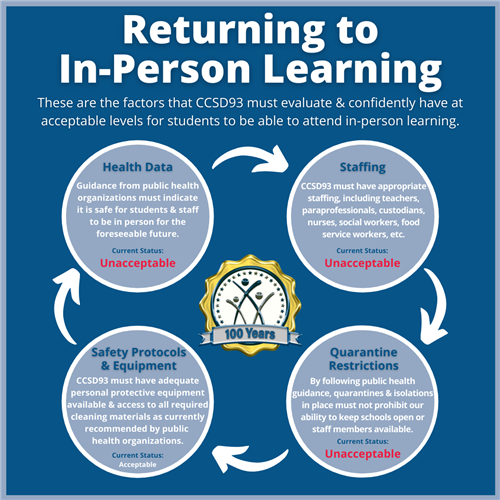 Given the continued rise in cases, combined with the timing of the Thanksgiving and winter breaks, our most realistic time frame to target a return is after winter break. We understand this will be difficult for many of our families, but we share this with you now so that you may plan accordingly. While our hope is to return in mid-January, it is still tentative, and we must see improvements in the Return to In-Person Learning factors above. CCSD93 will update families after winter break regarding an updated time frame. Specifics on the tiered return of students to school will be shared closer to the return.
Background Information Regarding Shift in Elementary School Schedule
The District's initial hope when we transitioned to a fully remote learning environment on Friday, November 6 was that we could return to Hybrid Learning as soon as the week following Thanksgiving. With the goal of returning shortly, it was not prudent to change the current AM/PM elementary schedule, given the amount of time necessary to enact the shift in the schedule.
As it has become clearer that such a transition back to hybrid learning is not feasible in the short term, shifting away from the current AM/PM elementary schedule is in the best interest of our students. This will:
Increase the amount of instructional time in the learning day

Provide greater structure for students throughout the day

Enable greater opportunities for individualized connections with the reintroduction of student support time
This learning day will generally include:
All elementary students connecting with the teacher at 8:45 a.m. each school day

A combination of synchronous and asynchronous learning between 8:45 a.m. and 2:15 p.m. each school day

A break for lunch each school day

Student support time from 2:15 to 3:45 p.m. Tuesday-Friday for teachers to connect individually with students
Students should follow the direction of their teacher regarding specific timing of their school day after 8:45 a.m., including timing for CATS. Specialists will reach out to students receiving individualized services regarding updated timing for those services. Our purpose in this shift in the elementary schedule is not to introduce another change for families to respond to, but to most effectively utilize the school day to benefit students given the circumstances we face.
For the health and safety of all, and to contribute to an atmosphere conducive to returning in-person learning, I once again appeal to our entire community to please continue to take to heart the generally accepted guidance of washing your hands regularly, wearing a mask, and watching your distance in all interactions in your personal lives. I ask that you please consider this guidance as you plan holiday travel and gatherings.
I thank our students, families, and staff members for their continued flexibility at this time.
Sincerely,
David H. Hill, Ed.D.
Superintendent of Schools
CCSD93