Return to Headlines
Coyote Chronicles
May 20, 2019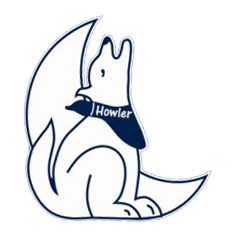 Haga clic aquí para Coyote Chronicles en español.
Principal & AP for a Day
Principal: Rosie & Charlie Minkalis
Assistant Principal: Ava Petricca
Today, we spent time with Mrs. McCarry & Mr. Kyle at Cloverdale. We started our day by greeting students outside. Then we helped with announcements. Then we ate a yummy breakfast with bagels and bear claws.
After breakfast we took a tour of the kitchen. We saw our cooks cooking food for the entire district. They cook all day! Then we visited lots of classrooms and handed out Howlers.
Then we visited the library where we got an extra library book! Then we worked on this letter.
We felt happy, excited, and amazed!
Congratulations and Gratitude
We wanted to congratulate our fifth grade students for successfully completing DARE. Thank you for bringing them to the graduation and celebrating this accomplishment with them. Our students were role models for others. We are so proud of their efforts.
A very special thank you on behalf of the entire Cloverdale staff for an amazing Teacher Appreciation week. We were spoiled and loved all of the thoughts, efforts and kindness. We are blessed to work with you to support amazing students who are making our world a better place each and every day.
School Supply Kits
The Cloverdale PTA worked with Carlson's to provide parents with the option to buy a school supply kit. The website to place orders is open. Please go to carlsonschoolkits.com, click on Carol Stream, then Cloverdale and follow the directions. Cut-off for orders is June 15th. All ordering is done online with a credit card. Please print your receipt. If there are errors, we cannot help you unless you have your receipt.
Registration for the 2019-2020 School Year
Online Registration for the 2019-20 school year is now open. Please register as soon as you're able. Be sure to check your email, and you can find out more at www.ccsd93.com/registration.
For parents whose residency could not be verified, a separate message indicating the need to verify with CCSD93 before you can register for next school year was sent.
Playground Build
We hope you had a chance to look at the plans for our new playground when you came for Open House. We are in need of parents to assist in the community build. The community build will take place on Saturday, August 3 starting at 8:00 am (corrected time). We will assist under the supervision of Mr. Cederland from Team Reil. In addition, we could use some help to set up a few pieces on Friday, August 2 from 3:00-5:00 pm. This will make Saturday go smoother. If you are willing to help, please email Mrs. McCarry (mccarrk@ccsd93.com) with anytime you can give. We have a few families committed, but are in need of more. If it rains on Saturday, August 3 we will build on Sunday, August 4.
Important Dates:
Tuesday, May 14- Cloverdale PTA Meeting- 7:00 pm- Cloverdale Innovation Center
Thursday, May 23- Board of Education Meeting- 7:00 pm- District Office
Monday, June 3- Last Day of School
Have a great week,
Mrs. McCarry and Mr. Kyle
High-quality communication is one of our goals. We welcome your feedback. Please call 630-588-5300 or email us with your comments or suggestions.