Award Winning Preschool - School District 93
Return to Headlines
Puppies' Pride School Newsletter
The Puppies' Pride Newsletter
CCSD93 Early Childhood Center
October 10, 2019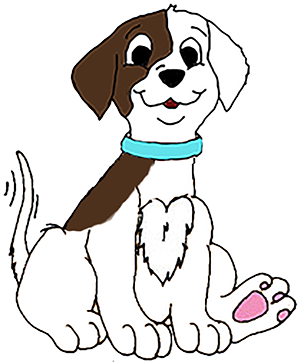 Happy Fall!
As the leaves are changing colors and the children are well-accustomed to coming to school, our school year is in full swing! The month of October is bringing cooler temperatures and new experiences!
This month's newsletter includes information on many fall activities, such as parent-teacher conferences, picture retake day, Halloween and a new event. Please be sure to read the newsletter and contact our school office with any questions.
We will continue to go outside for gross motor time. Please dress your child appropriately to play outdoors for 35 minutes each day.
Please note that there is no school on Monday, 10/14, which is Columbus Day, or Tuesday, 10/15, which is Institute Day. We'll see you on Wednesday, 10/16 after the Columbus Day weekend!
Have a wonderful weekend!
Sincerely,
Mrs. Rosary Horne, Principal

A Reminder about Halloween….
Many years before the ECC opened, it was decided that the preschool program would not include holiday celebrations. This is because holidays, especially Halloween, can be very confusing to young children. When holidays create a disruption of a child's normal routine, the preschool staff strives to provide our young students with consistency, predictability and security.
The ECC, then, does not offer Halloween parties, parades or treat bags on Halloween, and children do not dress in costumes to come to the ECC for the school day on Halloween.
Please do not send Halloween treat bags to school, as they will be returned per the practices described above. If your family would like to celebrate Halloween with the ECC families, please see the section below about "Trunk or Treat." Thank you!
Say CHEESE...but not yet
Picture Retake Day is being postponed. Picture Retake Day will NOT be 10/16/19.
As you know, we do not yet have our school picture orders. We have been in contact with Lifetouch, who takes our school pictures, and they explained that there was difficulty retrieving the photos from the hard drives on which they were stored. They report that they have now successfully retrieved all of the photos, and our picture packages are now in the production stage. We hope to receive them soon.
As soon as our picture packages are delivered we will reschedule Retake Day. We will share that new date with you as soon as possible. Thank you for your patience!
Scheduling Parent-Teacher Conferences
CCSD93 Parent/Teacher Conferences will be held Monday and Tuesday, November 25th and 26th. This is a great opportunity for parents to connect with their child's teacher about their child's education!
CCSD93's schools will once again offer online scheduling of Parent/Teacher Conferences through PTC Wizard.
All ECC parents that registered for a "Meet The Teacher" appointment in August are already in the system. (If you do not know your password, please use the "Forgot Your Password" link. If that does not work, please call Tracey, one of our school secretaries, at (630) 307-3849.)
Parents who did not attend "Meet The Teacher" appointment in August will need to register a new account. You can register an account any time.
All parents and guardians can sign up for conferences until Friday, November 22nd at noon.
Visit www.ccsd93.com/PTC for more details.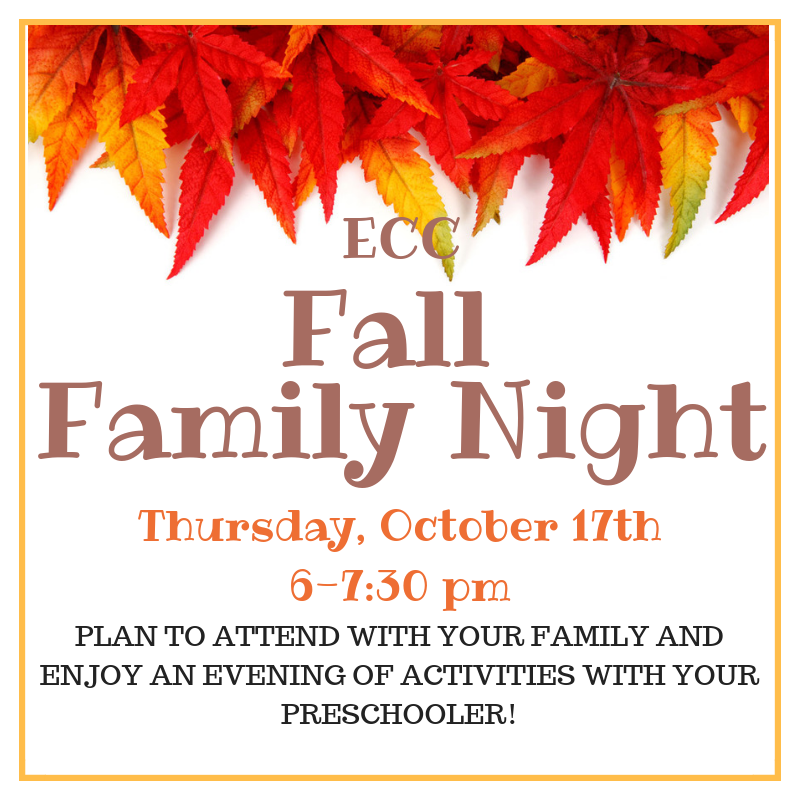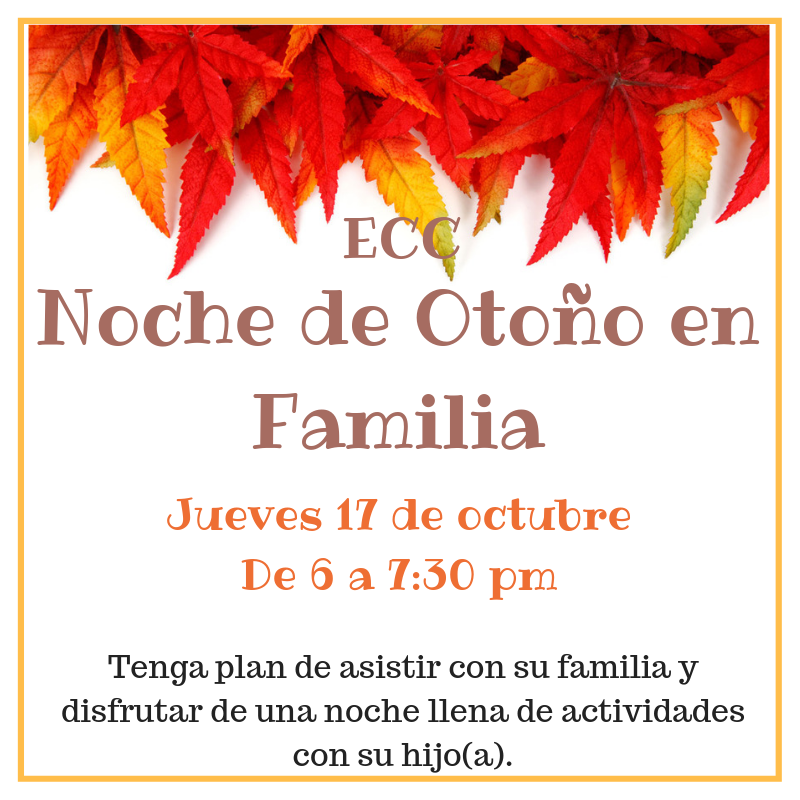 Parent Advisory Committee
The ECC Parent Advisory Committee is similar to a PTA, with parents participating providing input on the school operations, and planning opportunities and events for our students and families. Our first Parent Advisory Committee meeting was held last month and our next meeting is on Wednesday, October 22nd at 6:30 pm. It should last no more than an hour. Please plan to join us to learn more about the Parent Advisory Committee focus and to help plan events for our children throughout the school year! At the 10/22 meeting we will be discussing spirit wear, a restaurant fundraiser, and the possibility of hosting our first ever Grown Ups Day at the ECC for our grandparents and other special grown ups in our lives! Spanish and Burmese translators will be available.
NEW: Facebook Page for the ECC Parent Advisory Committee
The Parent Advisory Committee now has a Facebook group. It is a public group to talk about special events and meetings as well as a forum for parents and families to communicate with each other.
The group is: "CCSD93 Early Childhood Center Parent Group."
If you have any trouble accessing the group, please feel free to contact Kim Rusthoven at 623-810-2476.
We hope to see you there!
Snacks, Birthdays and Food at the ECC
At the Early Childhood Center, we work to keep our school safe for everyone, including students with allergies. We are a peanut-free school. At snack time, we offer students fresh fruits and vegetables, whole grain snacks, 1% milk, yogurt and cheese. Children should not bring their own snacks to school. Food should not be brought to school at any time. If you'd like to send something to school to celebrate your child's birthday, we suggest choosing a favorite book to share with the class. If you would like to send something for each child, please consult your child's teacher before choosing what to send. Please note that we cannot distribute any food treats or goodie bags, so please do not spend your time or money on those. Please consult your child's teacher before choosing what to send. Thank you!

Library Helpers
The ECC has a mobile library cart from which students check out books. The cart is run by parent volunteers who help children select books and then check the books out to the children.
We currently have 2 people in the am who volunteered to operate the book cart. THANK YOU! Morning students, then, started checking out books this week.
We are in need of 2 people in the pm to check books out to children on Wednesday afternoons. Time needed: approx. 2 hours weekly per person. Please call Jaime at (630) 307-3750 to volunteer! Thank you! Once we have volunteers, our afternoon students can start checking out books, too!
This year each child is receiving a personalized, clear book bag for their library books. Please teach your child to store their library book in that book bag whenever it is not being read, and to keep the book bag in their backpack. If the children do that they will always have their books in their personalized, clear book bag in their backpack when books are collected and returned. Any child who returns their book will then be able to check out a new book.
When books are not returned, parents receive an overdue book notice via email. When books are not returned after a period of time parents will be asked to replace that book with another book (can be a used book from your home) that is appropriate for preschool children.
If you have any questions about the library cart or the books, please feel free to call the school office or email Rosary at horner@ccsd93.com. Happy Reading!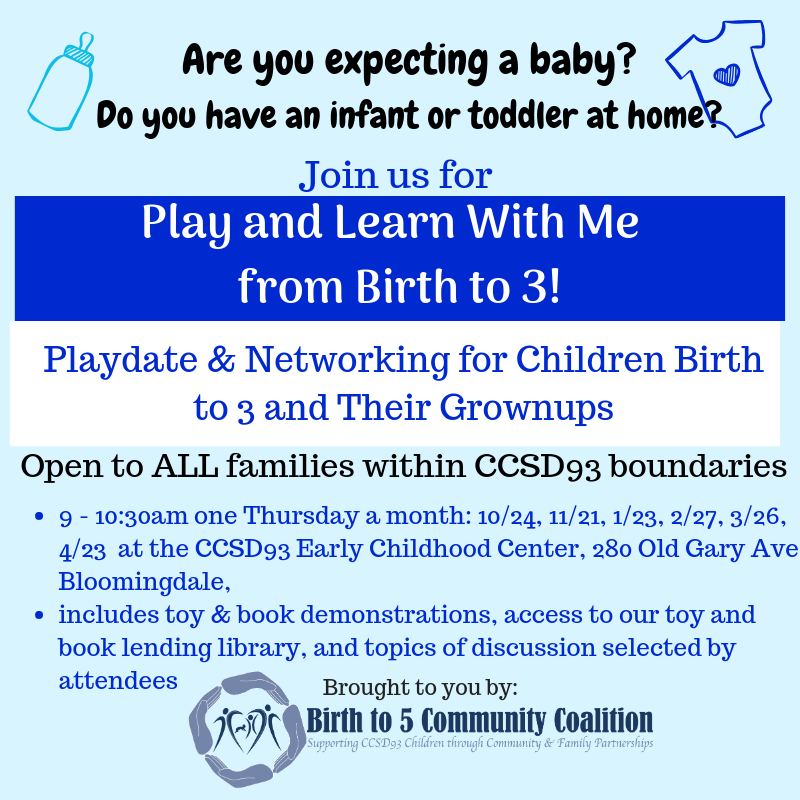 GO Foods and WHOA Foods
Has your preschooler been talking about GO foods and WHOA foods in your home? I hope so! Our teachers have started implementing the CATCH program, funded through a grant and made available from Northwestern Medicine. In addition to weekly village lessons on healthy food choices and weekly movement activities, the children enjoyed a brief lesson in September from our CATCH Community Outreach Specialist, Shannon McCall. Shannon and her helper reinforced the idea of GO foods (healthy foods you should eat often) and WHOA foods (less healthy options that should only be eaten once in a while.) She also talked about the importance of regular exercise and movement.
We will have two more assemblies with Miss Shannon during the year and she will send us some special gifts home with your children after each one.
Periodically throughout the year, we will send home a flyer from the CATCH program. It is intended to help you as parents to continue the conversations and practices around healthy food choices and healthy exercise in your homes. I hope you find these helpful!
Trunk or Treat
Recently, a survey was sent out to collect families' interest in the ECC and the Parent Advisory Committee hosting a new event called "Trunk or Treat." Seventy-six families responded to the survey. Here are the results: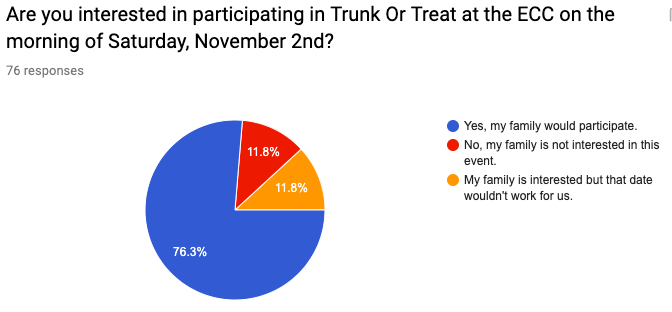 76% of the 76 families responding WOULD like to participate in "Trunk or Treat" on the morning of Saturday, 11/2 so we WILL host "Trunk or Treat" this year! Here is how the event will take place:
All families that would like to participate NEED TO RSVP BY:


Emailing Miss Jaime, one of our school secretaries, at keirnwj@ccsd93.com OR
calling our school office at (630) 307-3750

On Saturday, 11/2 we'd open the parking lot at 9:40 am and check in ECC families as they arrive. Families would pull their cars into parking spots.
At 10:00 am we would close the parking lot and stop all movement within the lot. Families could then open their trunks to display their Halloween decorations and trick or treat candy in their trunks. Grown Ups may want to bring a folding chair for one grown up who would stay at their trunk to hand out candy.
Children would wear their Halloween costumes and trick or treat within the parking lot with another grown up or older child. Please note; preschool children should not be allowed to Trick or Treat in the lot by themselves.
At 11:00, trick or treating would end, everyone would buckle their children in their car seats and close their trunks and the lot would be opened for people to exit.
Please note that the lot will remain secured and closed until 11am. If your family needs to leave before 11am, they should NOT park in our parking lot.
Please do not bring candy that contains any kind of nuts.
Parents and/or guardians will be responsible for checking all candy that their children receive to be sure that it is free of any allergens and safe for their child to eat.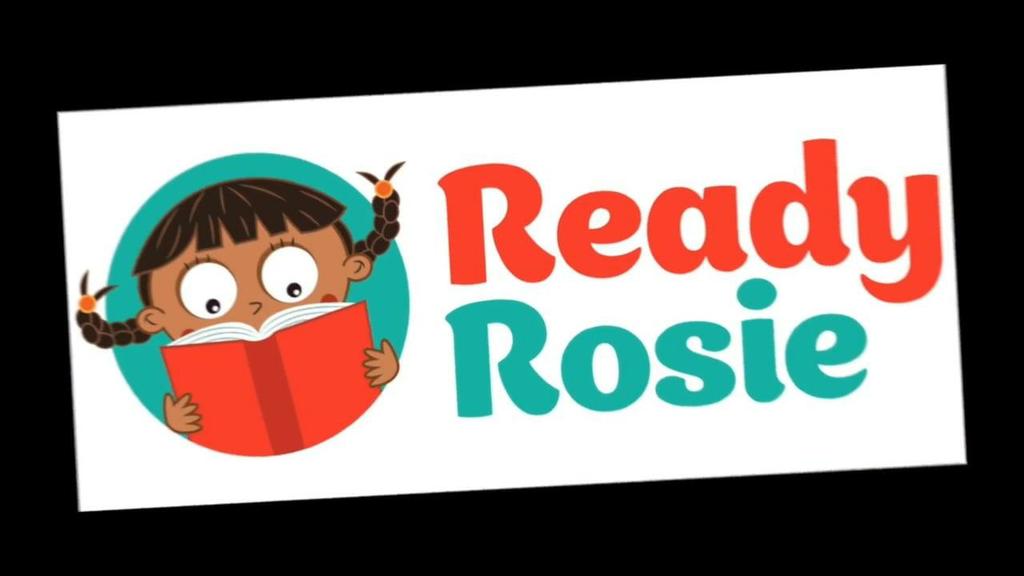 Ready Rosie is an online resource for parents that is made available for FREE for all CCSD93 parents through our district's own Birth to 5 Community Coalition. READY ROSIE includes short, realistic videos of parents and children together modeling simple things that parents can do in a typical day with a child. The activities require no special training or equipment. It only requires a child and an adult and, at times, some commonly found household objects. Parents and Guardians can choose to have the videos sent to them one time per week through their email or text messages.

Many of our parents are using READY ROSIE and LOVE IT!!
To sign up, please go to WWW.READYROSIE.com/REGISTER and choose "Register by Zip Code." Once you enter your zip code, you'll be prompted to select CCSD93 and answer a few questions to get you registered. If you have any questions, please feel free to email Rosary at horner@ccsd93.com.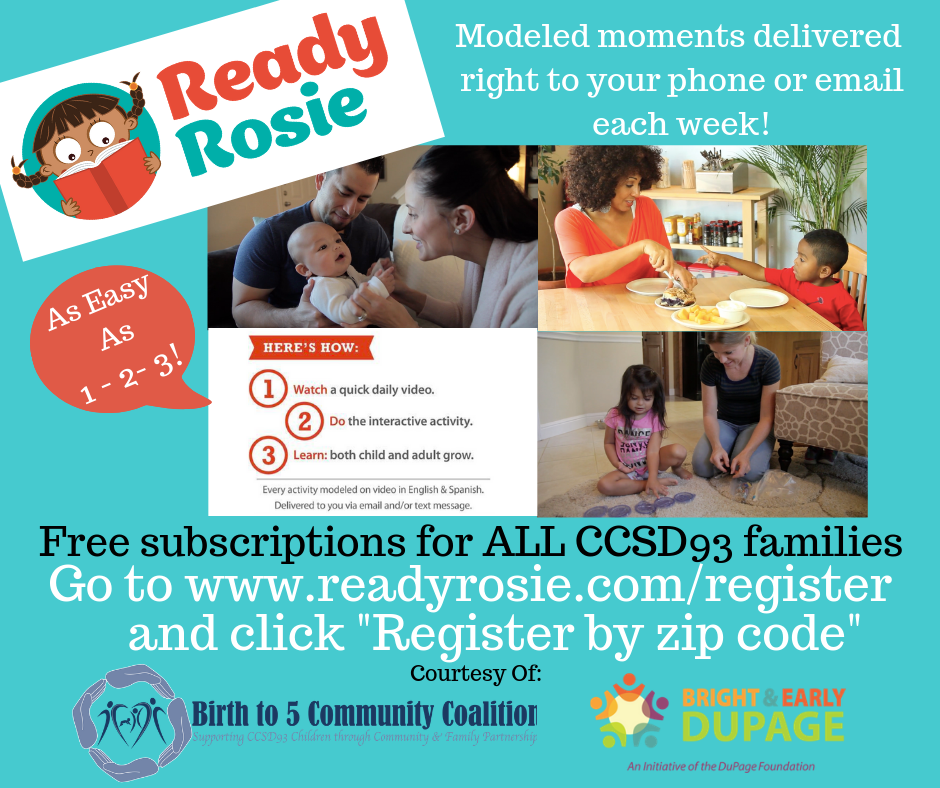 Bedtime Math
A study from the University of Chicago suggests that a math app such as Bedtime Math can bolster math confidence for both children and parents. The app accompanies the routine of a nightly bedtime story and supplements it with mathematical ideas. The goal is to create math learning opportunities that are consistent and non-intimidating for children and their parents!
Follow this link to learn more: http://tinyurl.com/pqghb4m
MARK YOUR CALENDARS for these upcoming events:
No School: Monday 10/14 and Tuesday, 10/15/19
Fall Family Night 10/17/19
Parent Pack Meeting, Tuesday, 10/22 at 6:30pm. Spanish and Burmese translators will be available.
Play and Learn With Me from Birth to 3: Playdate and Networking for Children Birth to 3 and Their Grown Ups 9-10:30am
Car Seat Safety Checks during arrival 10/25/19
Trunk or Treat, 11/2/19
Picture Retake Day - to be scheduled soon
High-quality communication is one of our goals. We welcome your feedback. Please call 630-307-3750 or email us with your comments or suggestions.