Return to Headlines
Elsie Johnson
Parent Newsletter
January 10, 2019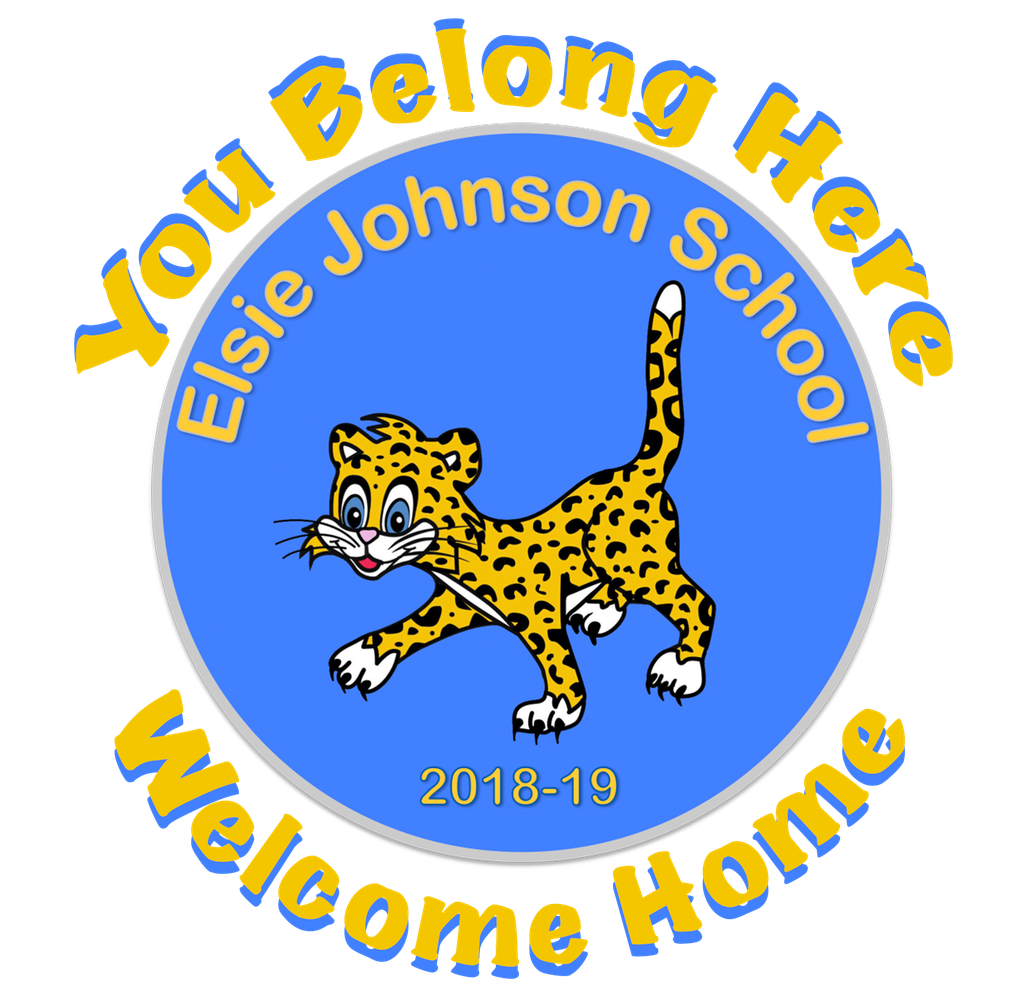 Elsie Johnson School Community,
Winter Sing-Along
Thank you to all the families who attended and participated in our annual Winter Sing-Along! It was great to see so many families there, and the students were overjoyed to have their families there to sing along with some of their favorite winter songs! Thanks also to Mrs. Lumia for planning such a fun family event.
We Need You!
Parents and caregivers, we are still in need of parents for our PTA Executive Board! We have very FEW parents who have been planning and running the MANY fun school and family events this year. (ex. Jaguar Winter Jam, Halloween classroom parties, and Winter Holiday classroom parties.) In order for these events to continue, please consider giving of your time, or possibly splitting a position with a friend! Please contact Ms. Sikich for more information and/or if you are interested in helping (sikichr@ccsd93.com or 630-671-8800).
Preschool Registration
Community Consolidated School District 93 will hold Preschool Registration for the 2019-20 school year on Thursday, January 17, 2019 from 6:00-7:30 at the District 93 Early Childhood Center, 280 Old Gary Avenue in Bloomingdale. Registration is for students who will be 3 years or 4 years of age by September 1, 2019. Please contact the Early Childhood Center, 630-307-3750, for more information.
Let's Play Event
Families with children birth to age 5, please attend the "Let's Play" event at Stratford Middle School on Saturday, January 12th from 10:00 am to 2:00 pm.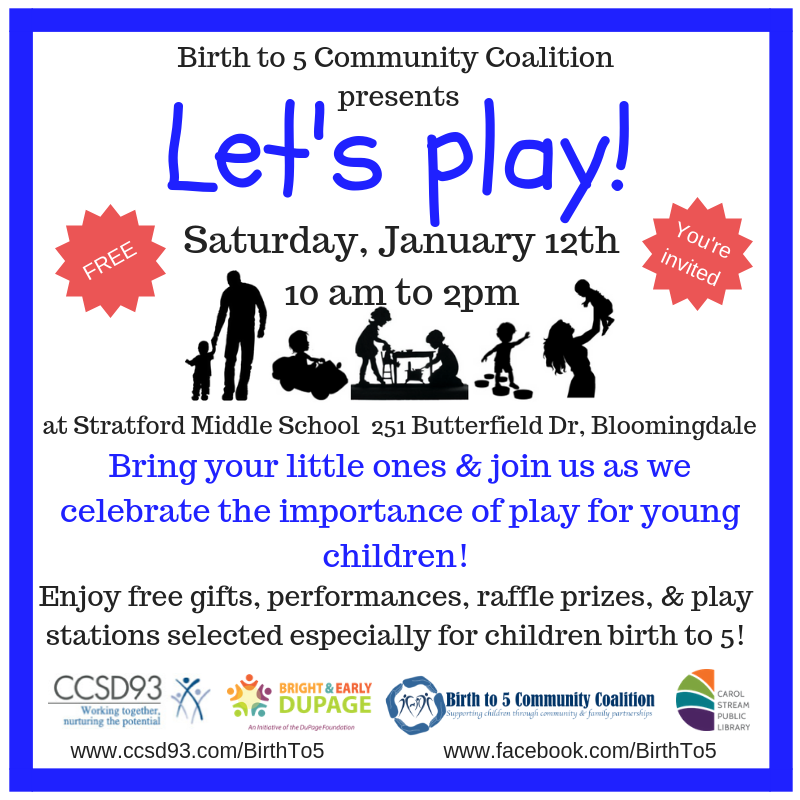 Best Start for Families Program
Best Start for Families is an exciting new program for parents and caregivers! It is a FREE 3-part parent learning and support series sponsored by The Changing Children's Worlds Foundation in partnership with CCSD93. Parents can choose to attend the sessions at either Western Trails or Jay Stream Middle School. Please consider attending! Additional information is below.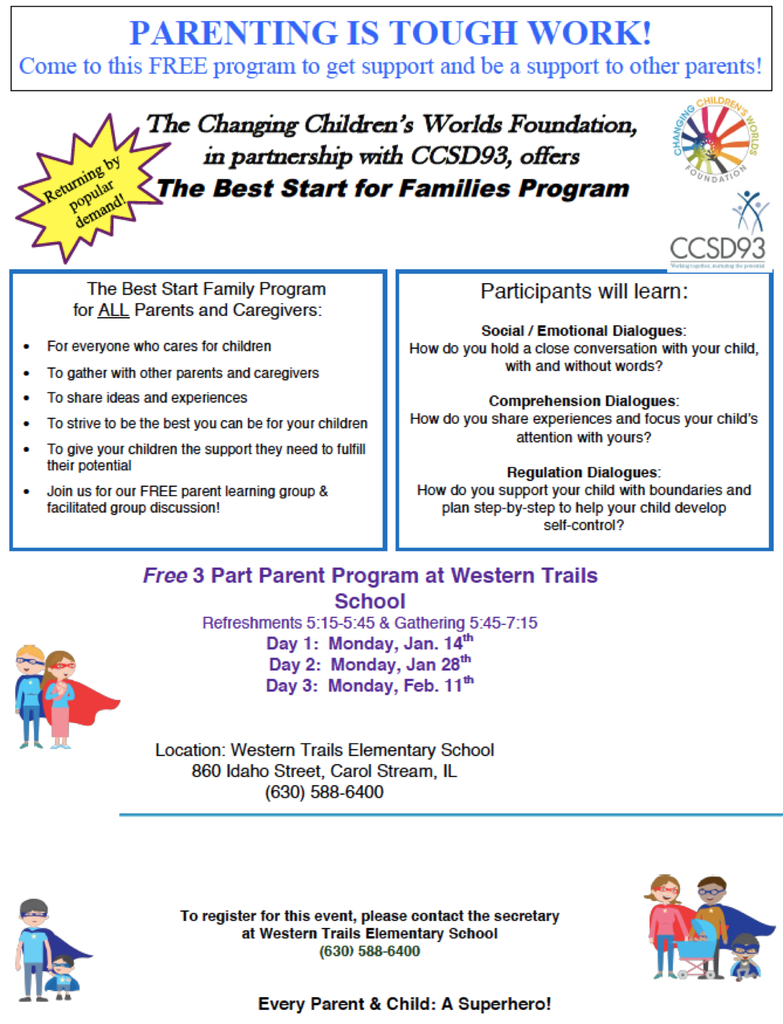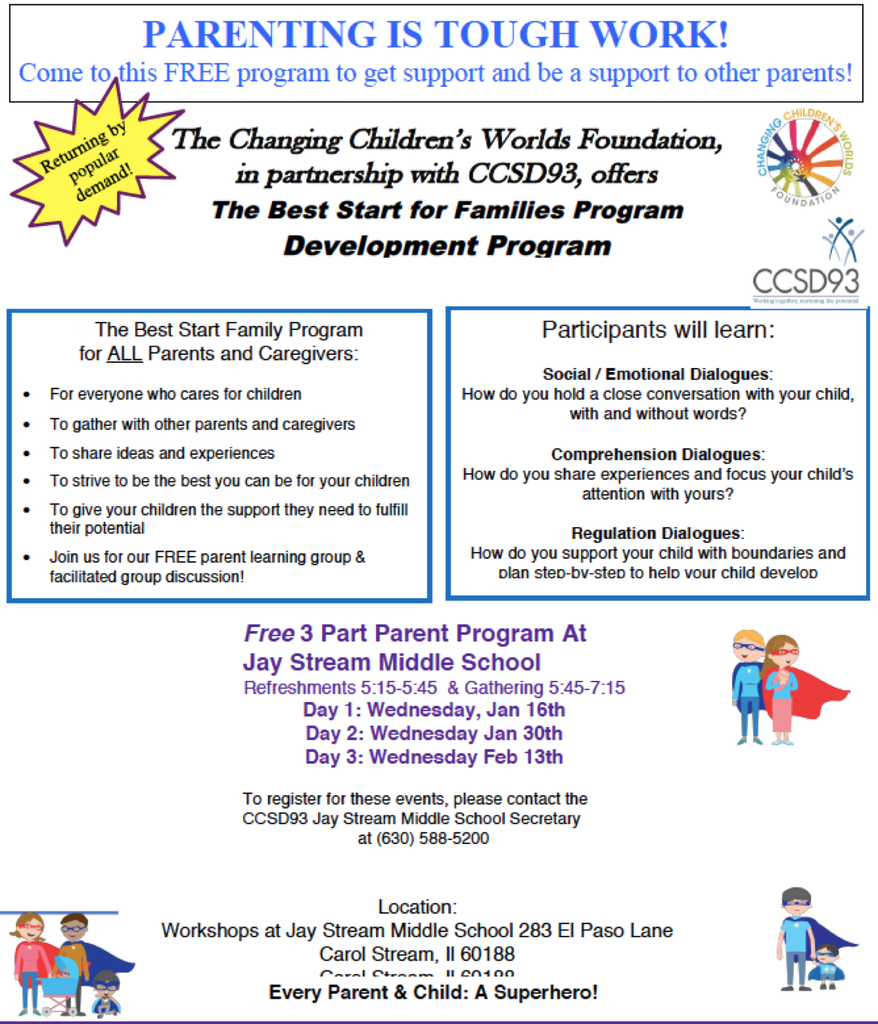 Child Assault Prevention (CAP) Parent Meeting
Elsie Johnson first and fourth grade students will be participating in the YWCA's Child Assault Prevention (CAP) Program on Tuesday, February 5th during the school day. Parents are strongly encouraged to attend the parent informational meeting on Tuesday, January 22nd from 6:30-7:30 at Heritage Lakes School.
Student Outerwear
Parents and caregivers, please remind your students that if you send them to school with a coat, they need to wear it for recess. It is important that they are properly dressed for the winter weather.
Upcoming Assessments
NWEA testing began this week and will continue through next Friday, 1/18/19 for students in 1st through 5th grade. 2nd through 5th graders take both reading and math; 1st graders take math only.
ACCESS testing begins the week of 1/16/18 for our EL, bilingual, and dual language students in K through 5th grade. This test measures proficiency in English in the areas of speaking, listening, reading and writing. Parents, please encourage your child to do his/her best during these assessments because it will provide valuable information about your child's growth. Please make sure your child is getting a good night's sleep and is beginning the day with a nutritious breakfast.
SafeSchools Alert
Just a reminder about Safe Schools Alert. It is a tip reporting service that allows students, staff, and parents to anonymously report bullying or other safety concerns to District 93 administrators. In order to report a concern, go to our school's home page: www.ccsd93.com/elsiejohnson, and click on the SafeSchools Alert icon. (Or you can click on the picture below.) Then follow the directions to report your concerns in one of four ways: phone, email, text, or web.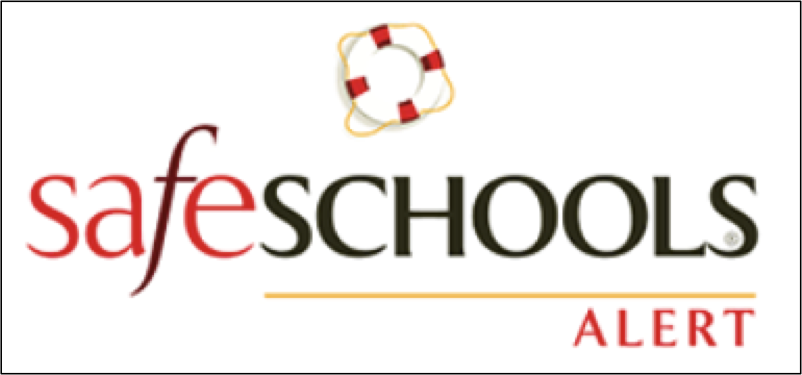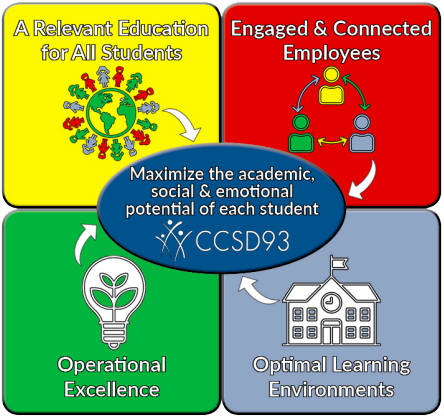 D93 Strategic Plan Highlight
Strategic Goal One - A Relevant Education for All Students
Strategic Goal One focuses on 4 main strategies: Applying 21st Century Skills and Abilities; Deploying Computer Science; Applying Visible Learning; Applying Design Thinking. Each of these strategies enables our students to be prepared to function effectively in the world around them and achieve success in their future educational endeavors and careers.
Warmest regards,
Ms. Rosanne Sikich, Principal
Mrs. Sherri Massa, Assistant Principal
Comunidad Elsie Johnson,
Canto de Invierno
Gracias a todas las familias que asistieron y participaron en nuestra reunión anual de invierno! ¡Fue genial ver a tantas familias allí, y los estudiantes se alegraron muchísimo de tener a sus familias allí para cantar junto con algunas de sus canciones favoritas! Gracias también a la Sra. Lumia por planear un evento familiar tan divertido.
¡Te Necesitamos!
Padres y cuidadores, todavía necesitamos padres para nuestra Junta Ejecutiva de PTA. Tenemos POCOS padres que han planificando y organizando MUCHOS eventos escolares divertidos y familiares este año. (Por ejemplo, Jaguar Winter Jam, fiestas en el aula de Halloween y fiestas en aula de vacaciones de invierno). Para que estos eventos continúen, ¡considere la posibilidad de dedicar su tiempo o posiblemente dividir un puesto con un amigo! Comuníquese con la Sra. Sikich para obtener más información y / o si está interesado en ayudar (sikichr@ccsd93.com o 630-671-8800).
Registro Preescolar
Community Consolidated School District 93 llevará a cabo el registro preescolar para el año escolar 2019-20 el jueves 17 de enero de 2019 de 6:00-7:30 en el Centro de la Primera Infancia del Distrito 93, 280 Old Gary Avenue en Bloomingdale. La inscripción es para estudiantes que tendrán 3 años o 4 años de edad antes del 1 de septiembre de 2019., comuníquese con el Centro de Infancia al 630-307-3750 para obtener más información.
Evento Let's Play
Familias con hijos desde los 5 años de edad, por favor asista al evento "Let's Play" en Stratford Middle School el sábado 12 de enero de 10:00 a.m. a 2:00 p.m.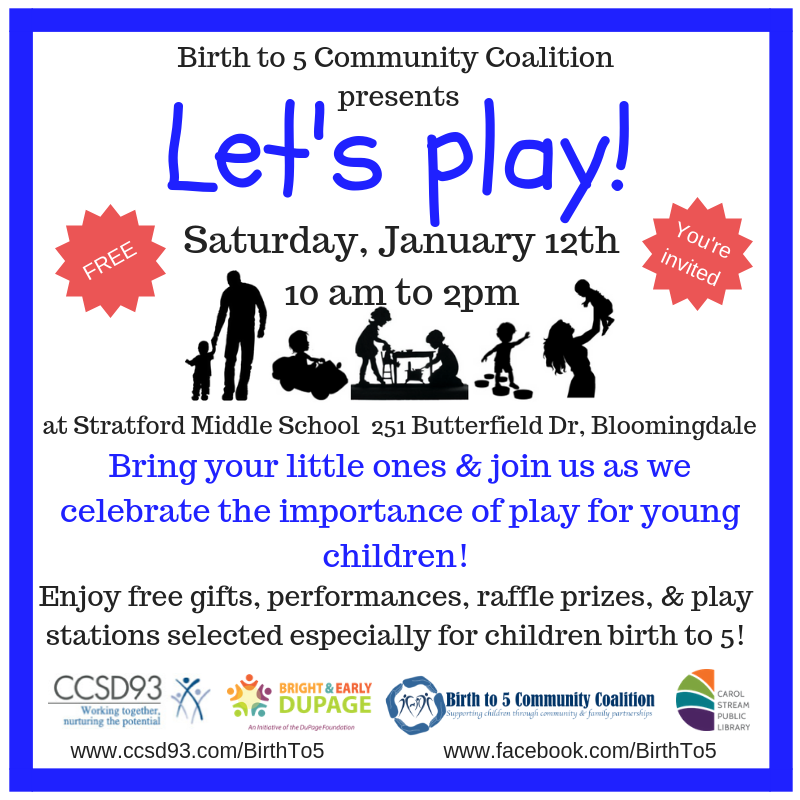 Programa Best Start Para Familias¡
Best Start for Families es un programa nuevo y emocionante para padres y cuidadores! Es una serie GRATUITA de aprendizaje y apoyo para padres en tres partes patrocinada por la Fundación The Changing Children's Worlds en asociación con CCSD93. Los padres pueden optar por asistir a las sesiones en Western Trails o Jay Stream Middle School. Por favor considere asistir! La información adicional se encuentra a continuación.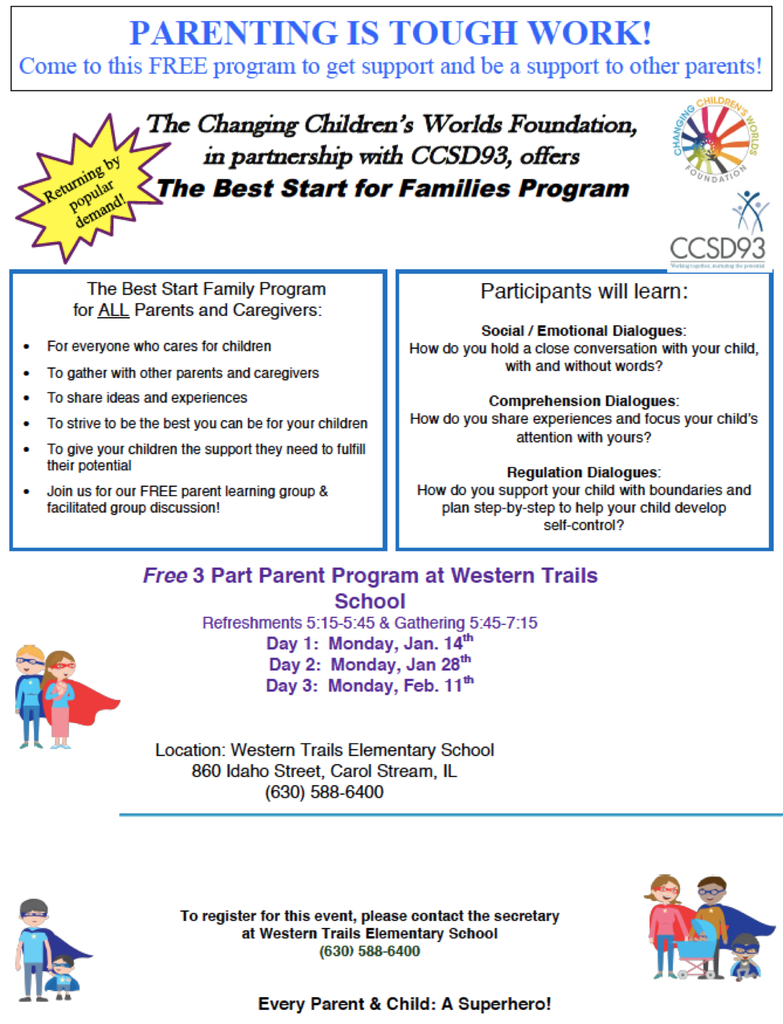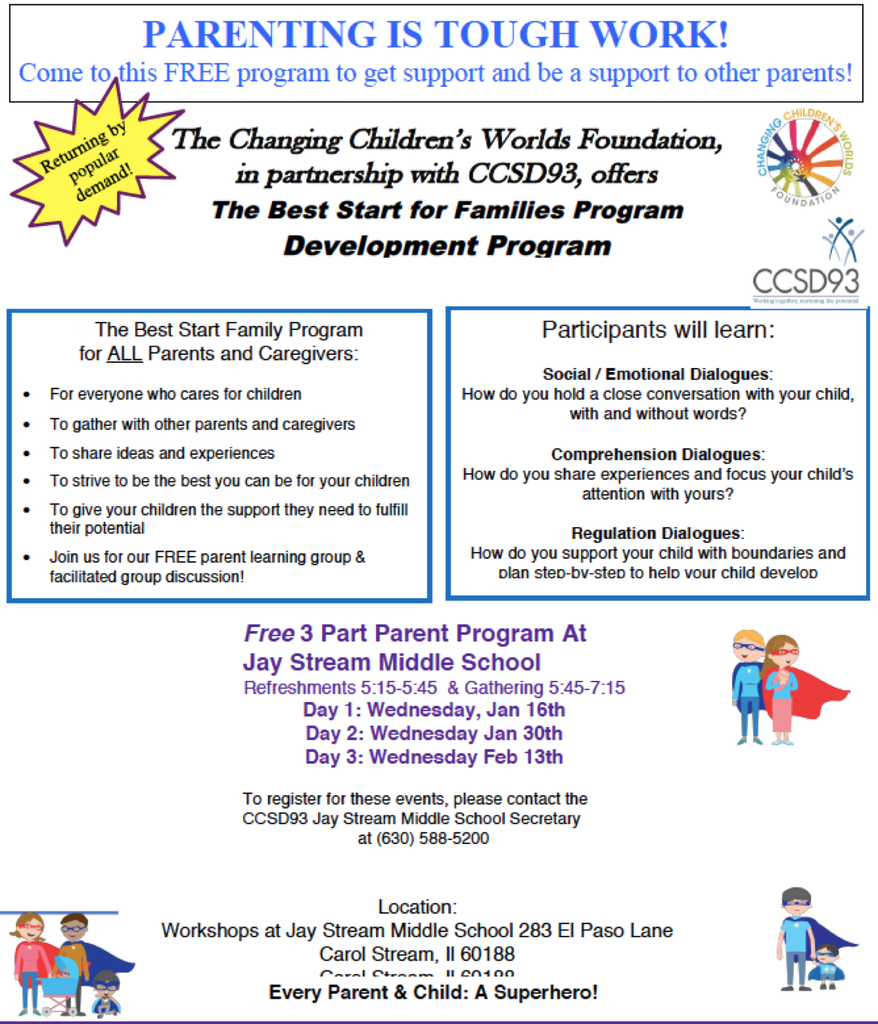 Reunión de Padres - Prevención de Asalto Infantil (CAP)
Los estudiantes de primer y cuarto grado de Elsie Johnson participarán en el Programa de Prevención de Asalto Infantil (CAP) del YWCA el martes, 5 de febrero durante el día escolar. Se recomienda a los padres que asistan a la reunión informativa para padres el martes 22 de enero de 6:30-7:30 en la escuela Heritage Lakes.
Abrigos Apropiados para el Clima
Padres y cuidadores, recuerde les a sus hijos/as que si los manda a la escuela con un abrigo, deben usarlo para el recreo. Es importante que estén bien vestidos para el clima invernal.
Próximas Evaluaciones
Las pruebas de NWEA comenzaron esta semana y continuarán hasta el próximo viernes, 1/18/19 para los estudiantes de 1º a 5º grado. Los estudiantes de 2º a 5º toman tanto lectura como matemáticas; Los estudiantes de 1er grado toman solo matemáticas.
Las pruebas de ACCESS comienzan la semana del 1/16/18 para nuestros estudiantes EL, bilingües y de dos idiomas en K a 5to grado. Esta prueba mide la competencia en inglés en las áreas de hablar, escuchar, leer y escribir. Padres, por favor anime a su hijo/a a hacer su mejor esfuerzo durante estas evaluaciones porque proporcionará información valiosa sobre el crecimiento de su hijo/a. Asegúrese de que su hijo/a duerma bien y que comience el día con un desayuno nutritivo.
Alerta de Escuelas Seguras
Sólo un recordatorio acerca de Alerta Escuelas Seguras. Es un servicio de información de punta en que permite a los estudiantes, personal, y los padres a informarnos de forma anónima sobre preocupaciones de intimidación o de otro tipo de seguridad a los administradores del Distrito 93. Con el fin de informarnos de preocupaciones. Valla a la página principal de nuestra escuela: www.ccsd93.com/elsiejohnson,y haga clic en el icono de Alerta SafeSchools. (O puede hacer clic en la imagen siguiente.) A continuación, siga las instrucciones para reportar sus inquietudes en una de cuatro maneras: teléfono, correo electrónico, texto, o en la web.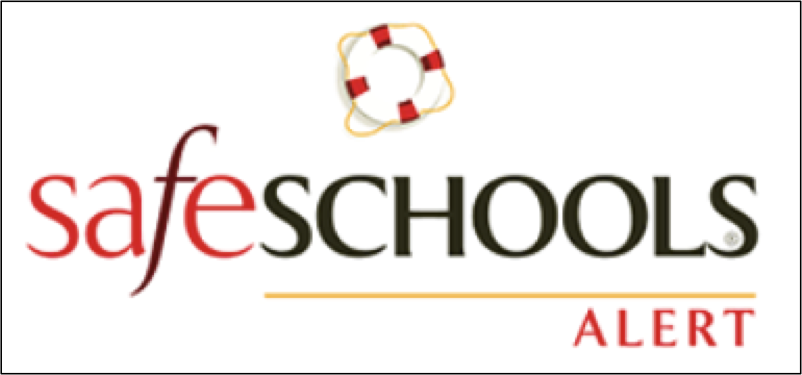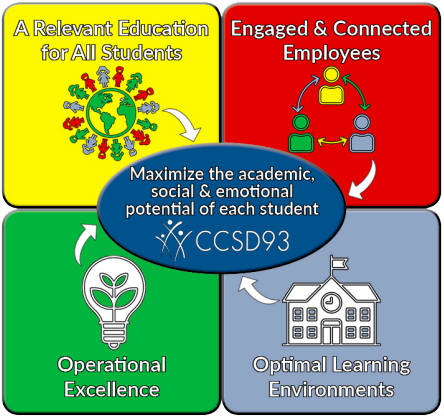 Aspecto destacado del plan estratégico D93
Objetivo Estratégico Uno - Una educación relevante para todos los estudiantes
El Objetivo Estratégico Uno se enfoca en 4 estrategias principales: Aplicar las habilidades del siglo XXI; Despliegue de Ciencias de la Computación; Aplicando el Aprendizaje Visible; Aplicando Design Thinking. Cada una de estas estrategias permite a nuestros estudiantes estar preparados para funcionar de manera efectiva en el mundo que los rodea y lograr el éxito en sus futuros esfuerzos y carreras educativas.
Saludos cordiales,
Sra. Rosanne Sikich, Directora
Sra. Sherri Massa, Asistente Directora
gh-quality communication is one of our goals. We welcome your feedback. Please call 630-671-8800 or email us with your comments or suggestions.