Return to Headlines
Elsie Johnson School Newsletter September 3, 2020
Elsie Johnson School Community,
Virtual Curriculum Night at Elsie Johnson!
While all students are remote, Elsie Johnson School is committed to providing virtual experiences that as closely replicate in-person events as possible. Along these lines, we will host a Virtual Curriculum Night on Wednesday, September 9th at 7:00 p.m. By attending Curriculum Night virtually, you will become better acquainted with your child's education and our school this school year through video presentations from our administrators and teachers.
The evening will begin with families collectively joining Ms. Sikich and Mrs. Weber for a YouTube Video Premiere where you will receive a general overview on the school year, including our goals and important notes about Remote Learning. From there, you will be linked to a website where you will find videos from your child's teachers. Teachers will cover how they are working to build relationships, how students are being supported academically, information about assessments, grading, and more.
Please be sure to join us by visiting www.ccsd93.com/EJCurr2020. You will also be sent email, text, and app push reminders with your child's YouTube Video Premiere link on the day before and on the evening of the event. We hope you will join us!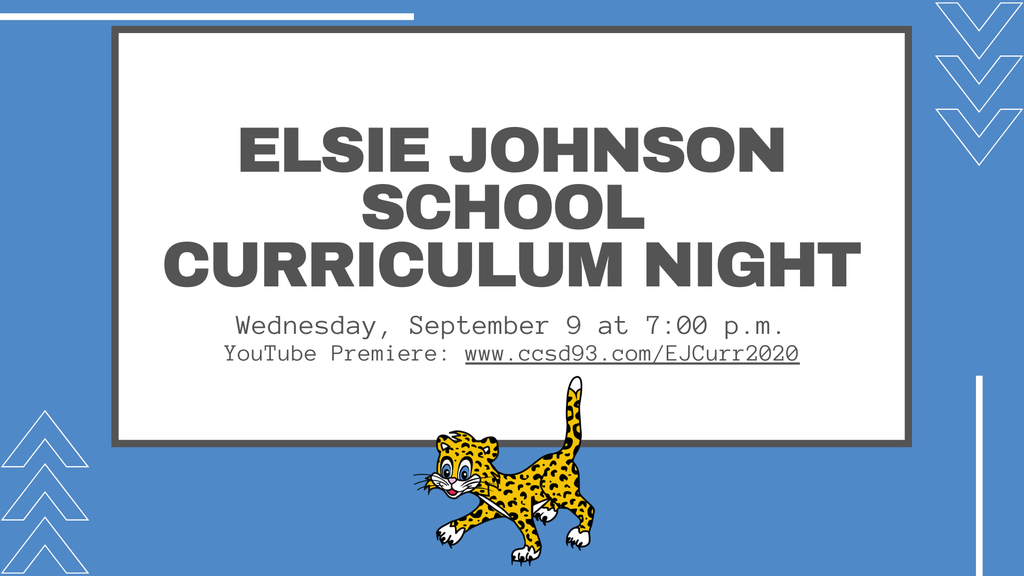 i-Ready Diagnostic Assessments
During the month of September, teachers will schedule and administer the iReady Math Diagnostic (Grades 1-5) and iReady Reading Diagnostic (Grades 2-5). The goal of these assessments is to help teachers better understand what students know and what they need to learn. The results are used to create a personalized path of online learning lessons and activities.
These adaptive assessments adjust their questions based on student responses. Each item a student sees is individualized based on their answer to the previous question. With this assessment model, students will experience some questions that are easier for them to answer and some that are more difficult. All students are encouraged to do their best.
Teachers will use Zoom to monitor students during the assessments. It is extremely important for students to take the assessments independently so that the learning path created for them is appropriate to their current level. Click on the following video for more information: iReady Parent Intro Video
Important Note to Kindergarten Parents from the Nurse
Hello! Even with remote learning, your child's physical exam and updated immunization record must be received at the school by September 15th. If you have an appointment with the doctor after this date, ask the doctor to fax the school a statement of your child's appointment date for the exam, and that will be acceptable.
If either are not completed by September 15th, your child will not be able to participate in remote learning. Please call me with any questions.
If your child still needs vision or dental exams, those should be done when possible and sent into the school office when they are completed.
Thank you,
Mrs. Granados
School Nurse
Elsie Johnson School
630-671-8809
School Lunches
As of yesterday, school lunches will again be available FREE for pickup from any school in the district each day from 10:30 am - 12:30 pm. MySchoolBucks accounts will not be charged.
Glenbard Parent Series
Each year, Glenbard Parent Series presentations consist of distinguished speakers who share real-world parenting skills to help families foster self-empowered children. Programs are free and open to the public. This year, the series has lined up an incredibly impressive group of speakers. Click here for more information: GPS Brochure


Please know that we are here to partner with you and work together during remote learning to ensure that your child's learning continues! Contact us with any questions.
Warmest regards,
Ms. Rosanne Sikich, Principal (sikichr@ccsd93.com)
Mrs. Maria Weber, Assistant Principal (weberm@ccsd93.com)
Comunidad Elsie Johnson,
Virtual Curriculum Night en Elsie Johnson!
Todos los estudiantes están aprendiendo en remoto, la escuela Elsie Johnson se compromete a brindar experiencias virtuales que reproduzcan eventos casi como en persona lo más fielmente posible. En este sentido, organizaremos una Noche de Currículo virtual el miércoles, 9 de septiembre a las 7:00 p.m. Al asistir a la Noche de Currículo de manera virtual, se familiarizará mejor con la educación de su hijo/a y nuestra escuela este año escolar a través de presentaciones de video de nuestros administradores y maestros.
La noche comenzará con las familias reuniéndose colectivamente con la Sra. Sikich y la Sra. Weber para un estreno en video de YouTube, donde recibirá una descripción general del año escolar, incluidos nuestros objetivos y notas importantes sobre el aprendizaje remoto. Desde allí, estará vinculado a un sitio web donde encontrará videos de los maestros de su hijo/a. Los maestros cubrirán cómo están trabajando para construir relaciones, cómo los estudiantes reciben apoyo académico, información sobre evaluaciones, calificaciones y más.
Asegúrese de unirse a nosotros visitando www.ccsd93.com/EJCurr2020. También se le enviarán recordatorios por correo electrónico, mensajes de texto y aplicaciones con el enlace de Estreno de video de YouTube de su hijo/a el día anterior y la noche del evento. ¡Esperamos que se una con nosotros!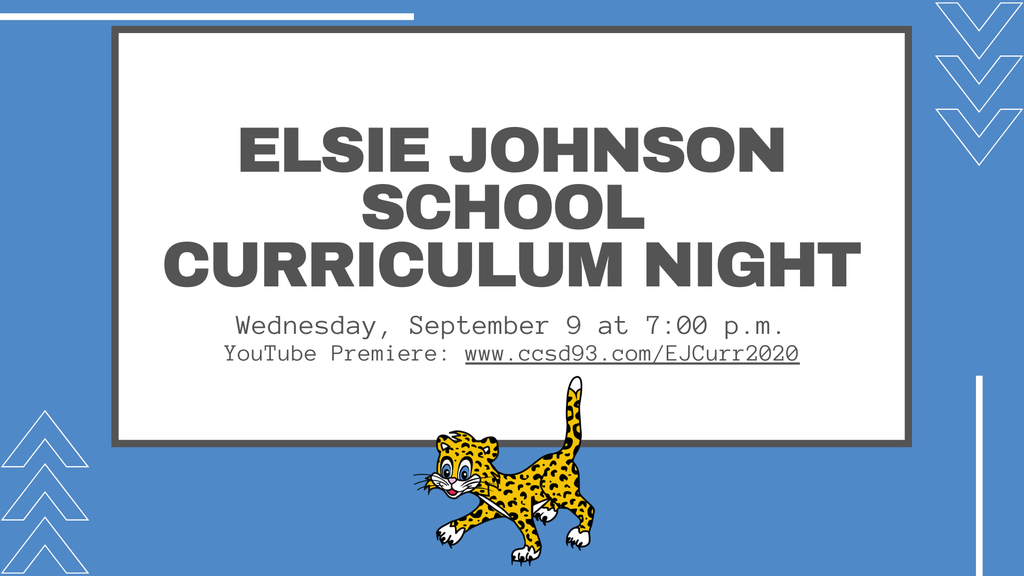 Evaluaciones de Diagnóstico i-Ready
Durante el mes de septiembre, los maestros programarán y administrarán el diagnóstico de matemáticas iReady (grados 1-5) y el diagnóstico de lectura iReady (grados 2-5). El objetivo de estas evaluaciones es para ayudar a los maestros a comprender mejor lo que los estudiantes saben y lo que necesitan aprender. Los resultados se utilizan para crear una ruta personalizada de lecciones y actividades de aprendizaje en línea.
Estas evaluaciones adaptativas ajustan sus preguntas según las respuestas de los estudiantes. Cada elemento que ve un alumno se individualiza en función de su respuesta a la pregunta anterior. Con este modelo de evaluación, los estudiantes experimentarán algunas preguntas que les son más fáciles de responder y otras más difíciles. Se anima a todos los estudiantes a hacer lo mejor que puedan.
Los maestros usarán Zoom para monitorear a los estudiantes durante las evaluaciones. Es extremadamente importante que los estudiantes tomen las evaluaciones de forma independiente para que el camino de aprendizaje creado para ellos sea apropiado para su nivel actual. Haga clic en el siguiente video para obtener más información: Padres vídeo de introducción en español
Nota importante Para los Padres de Kindergarten de la Enfermera
¡Hola! Incluso con el aprendizaje remoto, el examen físico de su hijo/a y el registro de vacunación actualizado deben recibirse en la escuela antes del 15 de septiembre. Si tiene una cita con el médico después de esta fecha, pídale al médico que envíe por fax a la escuela una declaración de la fecha de la cita de su hijo/a para el examen, y eso será aceptable.
Si alguno de los dos no se completa antes del 15 de septiembre, su hijo/a no podrá participar en el aprendizaje remoto. Por favor llámame si tienes alguna pregunta.
Si su hijo/a todavía necesita exámenes de la vista o dentales, estos deben hacerse cuando sea posible y enviarse a la oficina de la escuela cuando se completen.
Gracias,
Sra. Granados
Enfermera de la escuela
Elsie Johnson School
630-671-8809
Los Almuerzos Escolares
A partir de ayer, los almuerzos escolares estarán nuevamente disponibles GRATIS para recoger en cualquier escuela del distrito todos los días de 10:30 am a 12:30 pm. No se cobrarán las cuentas de MySchoolBucks.
Serie para Padres de Glenbard
Cada año, las presentaciones de la Serie para padres de Glenbard están formadas por oradores distinguidos que comparten habilidades de crianza del mundo real para ayudar a las familias a fomentar niños con autonomía. Los programas son gratuitos y abiertos al público. Este año, la serie ha reunido a un grupo de oradores increíblemente impresionante. Haga clic aquí para obtener más información: Folleto de GPS
Por favor sepa que estamos aquí para asociarnos con usted y trabajar juntos durante el aprendizaje remoto para asegurar que el aprendizaje de su hijo/a continúe! Póngase en contacto con nosotros con cualquier pregunta.
Saludos cordiales,
Sra. Rosanne Sikich, Directora (sikichr@ccsd93.com)
Sra. Maria Weber, Directora Assistente (weberm@ccsd93.com)
---
You are receiving this email because of your relationship with Elsie C. Johnson Elementary School. If you wish to stop receiving email updates sent through the Blackboard service, please
unsubscribe
.
Elsie C. Johnson Elementary School | 1380 Nautilus Lane, Hanover Park, IL 60133 | 630-671-8800