Return to Headlines
Heritage Lakes
Parent Newsletter
February 12, 2021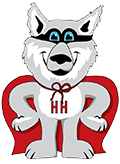 Dear Heritage Lakes Parents,
We have a number of new students returning to In-Person instruction on February 22, (the beginning of the third trimester). Please take a moment to view the 360 degree tour of how students will enter the building. I have included a tour for all grade levels as procedures for dropping off your child and entering the classroom may vary depending on your grade level.
Instructions for the 360 degree tour:
This 360 degree tour of your child's experience at Heritage Lakes can be viewed on any tablet, computer, or phone. Click the link to view the tour. Look for the gear icon in the upper right corner and click it to turn on the narration. To spin the view, simply click and drag the picture. You can click on any lower case "i" for more information. To move from scene to scene, click the arrows at the bottom of your screen. We hope you let your child view this as well, so they can see what their school looks like!
Kindergarten & Holy: https://poly.google.com/view/24wGCBDCxvx
First & Opacian: https://poly.google.com/view/6xZ7VVbgxN_
Second: https://poly.google.com/view/d-we8nHFpyR
Third & Morley: https://poly.google.com/view/7spJfP-z9o1
Fourth & Fifth: https://poly.google.com/view/1Qn9Yx2rUVz
Remember that Mondays are a full remote schedule.
This Monday, February 15, is Presidents' Day. This is a non-attendance day for students.
CATS MONDAY Remote (always a Day 0)
5th Grade/2nd Grade 9:05-9:45
3rd Grade/Holy and Opacian 10:15-10:55
4th Grade/Morley 11:15-11:55
Kindergarten/1st Grade 1:25-2:05
On Mondays, students will access their CATs Google Classrooms/Seesaw during their time and choose from PE, Music, or Art lessons to participate. These days will be asynchronous. Lessons may be shorter to allow for students to access more than one area during this time.
Tuesday - Friday Schedule
Tuesday-Friday: Group A 8:45-11:20 a.m.
Tuesday-Friday: Group B 1:10-3:45 p.m.
Hybrid Learning Group A will attend school off-site (remotely) during Hybrid Learning Group B's in-person learning times, while Group B will attend school off-site (remotely) during Group A's in-person learning times.
Hybrid Learning Group A will attend school in person (while Hybrid Learning Group B learns off-site)
Hybrid Learning Group B will attend school in person (while Hybrid Learning Group A learns off-site)
Mr. Yelaska
Principal
Heritage Lakes School