Return to Headlines
Heritage Lakes
Parent Newsletter
March 12, 2019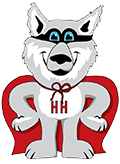 Dear Parents:
It's hard to believe that it's the 12th of March already! We want to thank you for your continued support in making this a great school year! School-wide assemblies, PTA Family Nights such as Bingo Night and the Pancake Breakfast, parents visiting for lunch/ helping in the classroom and reading the book "Bob" as a school all have contributed to the sense of community we have at Heritage Lakes. Students and staff enjoyed reading the book "Bob" as a school this year. After finishing the book each class decided to make a time capsule (like Livy and Bob made in the book). We will open the time capsule in six years. Each classroom carefully thought about things they wanted people to remember about them in six years. Students came up with many wonderful ideas. I am happy to say one of the consistent themes that students wanted people to know about Heritage Lakes is that Huskies Care! We hope you will join us in six years to see what else students wanted people to know about their class.
The DuPage County Health Department is recommending increased awareness and actions to help control and prevent the spread of influenza (flu), toward keeping our students and community safe and healthy. To prevent widespread flu in the school, we recommend that your child stay home from school if experiencing flu-like illness symptoms (such as fever, cough, and sore throat). Since influenza is primarily spread by direct contact with nose and throat secretions, there are measures we can all take to reduce our chances of becoming sick with influenza and other similar infections:
The following links may provide some assistance with how to protect your child from the flu.
https://www.cdc.gov/flu/pdf/freeresources/family/flu-guide-for-parents-2018.pdf
Spanish: https://espanol.cdc.gov/img/cdc/ES_71006.pdf
I want to highlight some important dates for you as we are rapidly approaching the end of March.
March 13 (4pm-8pm) Parent Teacher Conferences
March 15 is a non-attendance day for students
Once again, Heritage Lakes will support a Community Food Drive. It will start next Monday, March 18. Non-perishable food will be collected in the front lobby of the school. This event will end on April 26 and representatives will collect the food on April 27.
The Robert Crown 4th grade parent Human Growth & Development Information Night will take place on March 20 at 7:00 p.m. at the District Office. This is for parents (students should not attend).
Spring break begins on March 25 and students will resume school on April 1.
Illinois Assessment-Grades 3-5 (Formerly known as PARCC)-Students in grades 3-5 will take the Illinois assessment on April 2nd (ELA), April 4th (ELA), April 9th (Math), April 10th (Math), April 11th (Math) and April 12th (ELA field test). Please make sure that your children get plenty of rest on these days as the testing sessions take between 75- 90 minutes for students.

Dear Parents:
We have begun the process of class placement for the 2019-2020 school year. The process that we use in placing students in classes is as follows:
If you have information about your child and about the kind of learning environment in which he/she best works and learns that would help us in making the placement decision, we ask that you complete the placement form that is attached to this letter before April 5. This information will be considered as we make placement decisions. This is an optional activity. You do not have to complete the form unless you have information to share that will impact the placement of your child.
We are also gathering information from your child's teacher at the present time. This information, along with your input, will help us to make the best educational decision for your child.
A team of educational professionals including the social worker, special education teachers,school psychologist, and reading specialist will help in developing balanced classrooms of students.
In making these important decisions we want to consider all possible relevant information so that placements will be made that will insure the greatest possible learning for each child. We consider your feelings and insights to be a very important factor. However, while it may be desirable for you to choose your child's teacher, we do not honor requests for specific teachers.
As you know, an important factor that influences the nature and amount of information your child learns is the composition of his/her class. Your child's present teacher has a year's worth of current information and insight concerning the conditions under which your child learns best. All classes we create are heterogeneous, meaning there is an equitable placement of all children including those with learning, language, and/or behavioral needs in each and every classroom.
Please be assured that our goal is to create classes that meet all children's needs and that provide the best conditions for growth and learning.
Sincerely,
Bob Yelaska, Principal
Natalie Heinrich, Assistant Principal


High-quality communication is one of our goals. We welcome your feedback. Please call 630-588-6200 or email us with your comments or suggestions.