Return to Headlines
Parent Newsletter - November 8, 2019
Heritage Lakes
Parent Newsletter
November 8, 2019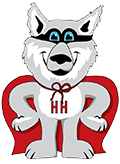 Dear Heritage Lakes Families,
November 11 is Veteran's Day. On behalf of Heritage Lakes we would like to take a moment to thank our veterans for all of their service. On Monday we are encouraging staff and students to wear Red, White, and Blue. We have a number of veterans who will be joining us for breakfast at HLS and then will be speaking to students. Please ask your child about this experience.
Student-Led Conferences will be happening on November 25th and 26th. Please make sure you sign up for a conference through PTC wizard and/or call the office if you need help. Don't forget to bring your child to the conference, as it will be an opportunity for them to share their progress.
Our Christmas Sharing Program sponsored through the Village of Carol Stream will begin November 11 and run through December 9. We will collect non perishable food and paper items and will have collection boxes in the front lobby.
The first week in December, Heritage Lakes will hold and All School Spirit Week for the Community Food Drive.
Monday, December 2 - Have a Great Heart! Wear red and bring in ketchup, pasta, or sauce!
Tuesday, December 3 - Let's collect some breakfast items! Wear your pajamas and bring in pancake mix, syrup, or oatmeal.
Wednesday, December 4 - Sock it to Hunger! Wear crazy socks and bring in a box of cereal!
Thursday, December 5 - It would be SOUP-ER if Heritage Lakes collected items to share! Dress like a Superhero and bring in boxed or canned soup.
Friday, December 6 - Cap off the Food Drive today by wearing a Hat and donating hygiene products! ie: toothpaste, toothbrushes, deodorant, soap, cotton balls, bandaids, etc.
Other items needed:
● candy, mac & cheese, canned meat, flour, sugar, rice, cooking oil, paper towels, toilet paper, detergent
You can bring any of these any day of the week!
*Students are able to participate in our Spirit Week activities even if they are unable to bring in items!
Thanks!

Sincerely,
Mr. Bob Yelaska
Principal
Mrs. Natalie Heinrich
Assistant Principal
High-quality communication is one of our goals. We welcome your feedback. Please call 630-588-6200 or email us with your comments or suggestions.