Return to Headlines
Parent Newsletter - February 4, 2020
Heritage Lakes
Parent Newsletter
February 4, 2020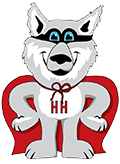 Dear Heritage Lakes Families,
Family Bingo Night
Friday, February 7, from 6:00-8:00 Heritage Lakes will host a family Bingo Night. Please join us in the gymnasium at Heritage Lakes as we will have treats and prizes for this event. Most importantly, this is a nice opportunity to participate in a fun evening with families at Heritage Lakes.
Map, i-Ready, & CogAT Reports
(MAP®​ ​) Reading reports and iReady Math Diagnostic test results were sent home with students on Friday, January 31. Students in 2nd-8th grade have taken the (MAP®​ ​) Reading assessment and students in K-8th grade have taken the iReady®​ ​Math Diagnostic. These tests determine your child's instructional level and measure academic growth throughout the school year, and from year to year in the areas of math and reading. Students take these tests three times per year in September, January, and May. Teachers use the reports and scores from these tests to plan and to group students for instruction. Second and fourth grade students are also receiving results from the CogAT (Cognitive Abilities Test) which was administered in late November/early December. The CogAT measures students' ability to reason and problem solve. It provides us with a measure of ability that can be used as part of our process for placement in gifted and advanced classes.
Influenza
With the arrival of the cold and flu season and with an increase of influenza-like illness reports, the DuPage County Health Department is recommending increased awareness and actions to help control the spread of influenza (flu), toward keeping our students and community safe and healthy. We recommend that your child stay home from school if experiencing flu-like illness symptoms (such as fever, cough, and sore throat). When calling in for your child please let the secretaries know all of their symptoms. If you go to the doctor and have a confirmed case of influenza please contact us to let us know. Please know that we make a conscious effort to do deep cleaning in any classroom environment that we have an increased number of illnesses due to flu like symptoms.
Consistency for On Task Behavior
Although we have been working all year to impress with students the importance of being on task, we have created a special emphasis on this over the past few weeks. We define on task behavior as students that are engaged in productive, expected behaviors that make progress towards a learning goal(s). Off task behavior can be disruptive to your child and others and impede their progress. As we look at the three B's, Being Respectful, Being Responsible, and Being a Good Citizen we will be explicit about teaching the following skills and expectations to students:
Being Respectful

Students use expected voice levels
Students utilize appropriate personal space

Being Responsible

Students ask for help
Students demonstrate Whole Body Listening (ie: eyes watching, ears listening, body calm)
Students use materials as expected
Students follow teacher direction

Be a Good Citizen

Students help others as directed by the teacher
The teacher's role will be to provide clear directions and expectations prior and during activities. Students that demonstrate non expected behaviors will continue to be retaught and as a result the teacher may document the off task behaviors on a communication form. The communication form is our way of informing you that your child continues to be challenged with performing a skill and will outline a plan to assist in building the skill. Please don't be alarmed if you receive communication forms home, as there may be an increase due to explicit focus and teaching on these skills. We appreciate your support and partnership.

Sincerely,
Mr. Bob Yelaska
Principal
Mrs. Natalie Heinrich
Assistant Principal
High-quality communication is one of our goals. We welcome your feedback. Please call 630-588-6200 or email us with your comments or suggestions.