Return to Headlines
Jay Stream 8th Grade Graduation Ceremony: Important Notes & Reminders for 5/22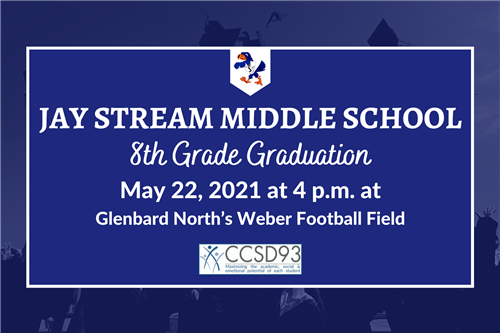 Dear Families of Jay Stream Graduating 8th Graders,
We are thrilled to celebrate your child's tremendous accomplishment of graduating 8th grade. As you know, the graduation ceremony will be held at Glenbard North High School's Weber Football Field on Saturday, May 22 at 4:00 p.m.

Jay Stream's ceremony is one of several Glenbard and CCSD93 graduations at Glenbard North on May 22, so it is essential that each family does their part to assist in maximizing efficiency between graduation ceremonies. Please review the following completely prior to the event.

Student Arrival
The Glenbard North parking lot will open to students and families at 3:15 p.m. Please do not arrive prior to 3:15 p.m. because families from the previous graduation ceremony will be utilizing this time to exit the parking lot. Students should arrive at 3:15-3:20 p.m. with their graduation gown on, ribbon attached and any medals they may have received from 8th Grade Awards Night.

Students should be appropriately dressed underneath their gown for this event (i.e. dress casual). Boutonnieres and corsages may not be worn during the program, and flowers/balloons should not be presented to graduates during the ceremony. Please note that, due to severe allergies, latex balloons are not permitted at Glenbard North High School.
Upon arrival at Glenbard North, students must enter through the east gate to the stadium and proceed to the Field House Roll-up Door (see image below). Students will then proceed to the air conditioned Gym where they will find a seat with their name on it and listen for any last-minute instructions before lining up for the ceremony.

Family / Guest Arrival
There are limited parking spaces available, so families/guests should arrive in a single vehicle with their student, again no earlier than 3:15 p.m. Families/guests should enter off of Lies Road as depicted in the image below.

Tickets / Guest Entry
Gates to the stadium will open to the public for graduation beginning at 3:20 p.m. The main guest entrance to the stadium will be the west gate. Guests requiring special assistance will enter through the east gate of the stadium.

Each family received 3 tickets via U.S. mail to be used for guests to the ceremony. Original copies of the tickets ARE required for entrance to the ceremony as we will have a strict attendance limit. Each family's tickets are unique and should not be reproduced as this may result in family members being turned away. Please be aware that there are no assigned seats for this ceremony.
Upon entry, there will be separate admissions lines based on student last name. Look for signage and staff member directions to enter using the line of the last name of the student listed on your ticket.

COVID-19 Considerations
CCSD93 staff will sanitize all seating areas between ceremonies. Attendees must adhere to the following:
All attendees must wear a mask for the entire duration of the event.

All attendees must be free of the COVID-19 symptoms found at

www.ccsd93.com/screen

. Attendance at this event serves as the attendee's certification that they are symptom free.

Social distancing is required during this event. All attendees must maintain a distance of 6 feet from members outside of their party and adhere to posted signage to ensure social distance.
Failure to follow any of these terms & conditions may result in ejection from this event.

Event Program
There will be no paper programs available at the event. You are invited to find a copy of the event's program at www.ccsd93.com/JP.

We are pleased to provide each family with a free 8x10" photograph of their child, which will be taken immediately after the graduate crosses the stage and mailed to the family. Please note: students will receive a diploma cover as they cross the stage to have in-hand for their photograph. Due to COVID-19-related diploma and cover supply chain issues, we will re-collect the cover after the photograph and mail it to you, complete with the diploma, in the coming weeks.

Live Stream
Family, friends and relatives unable to attend in person are welcome to attend virtually at 4:00 p.m. on Saturday, May 22 for a live stream of the event at www.ccsd93.com/JSgraduation. The video will remain active for viewing after the event's conclusion.

Departure
After the ceremony, students will exit into the parking lot to meet their families. Guests will exit through the main guest entrance, and families should meet students at their car or another prearranged location outside of the building following the ceremony. Families should depart in their vehicle using the exit depicted in the image below. The Carol Stream Police Department will be present to assist with vehicle arrival and departure.

Pictures should not be taken on site before or after the event to accommodate the day's other ceremonies. If you desire to take pictures prior to or after the event's conclusion, please make plans to do so in a space other than Glenbard North.

We could not be more excited to celebrate your child's accomplishment with you!

Sincerely,
David H. Hill, Ed.D.
Superintendent of Schools
CCSD93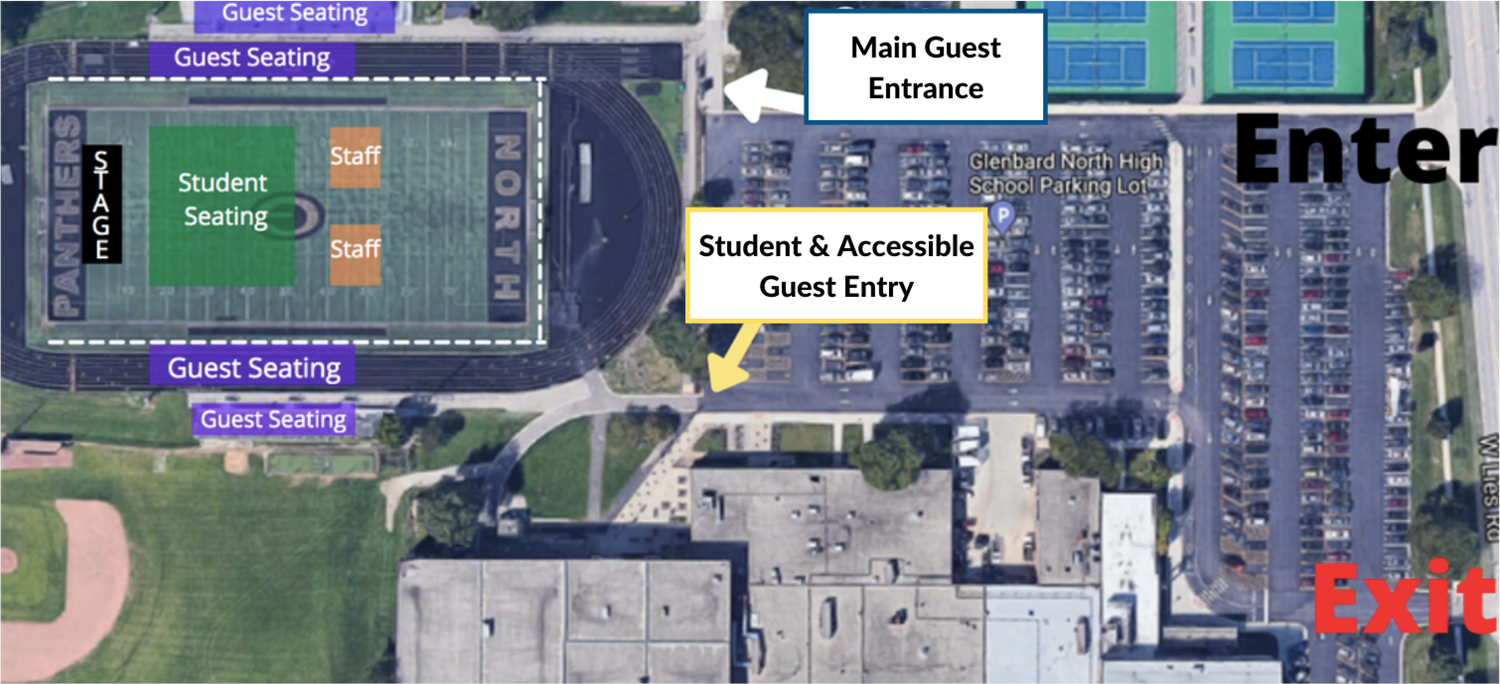 ---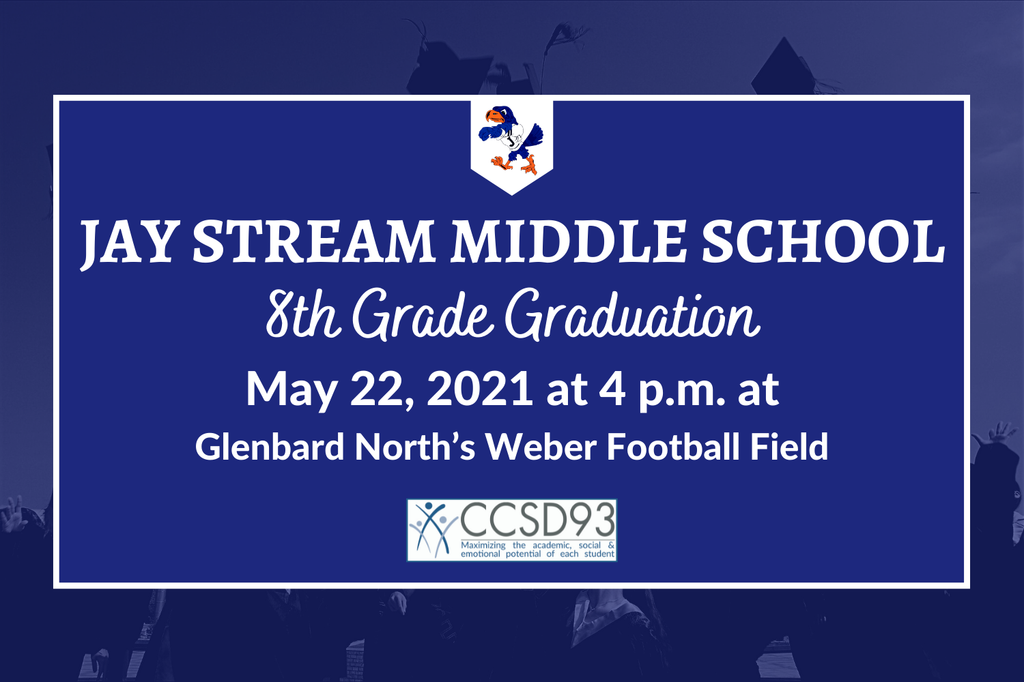 Estimadas familias de Jay Stream Graduados de octavo grado:
Estamos encantados de celebrar el tremendo logro de su hijo al graduarse de octavo grado. Como saben, laceremonia de graduación se llevará a cabo en el Weber Football Field de Glenbard North High School el sábado 22 de mayo a las 4:00 pm.

Jay StreamLa ceremonia dees una de las varias graduaciones de Glenbard y CCSD93 en Glenbard North el 22 de mayo, por lo que es esencial que cada familia haga su parte para ayudar a maximizar la eficiencia entre las ceremonias de graduación. Revise lo siguiente completamente antes del evento.

Llegada de los estudiantes
El estacionamiento de Glenbard North abrirá a los estudiantes y sus familias a las 3:15 pm. No llegue antes de las 3:15 pm porque las familias de la ceremonia de graduación anterior utilizarán este tiempo para salir del estacionamiento. Los estudiantes deben llegar a las 3: 15-3: 20 pm con su toga de graduación puesta, cinta atada y cualquier medalla que hayan recibido de la Noche de Premios del 8vo Grado.

Los estudiantes deben vestirse apropiadamente debajo de su bata para este evento (es decir, vestimenta informal). No se pueden usar ojal y ramilletes durante el programa, y ​​no se deben presentar flores / globos a los graduados durante la ceremonia. Por favor tenga en cuenta que, debido a alergias severas, los globos de látex no están permitidos en Glenbard North High School.
Al llegar a Glenbard North, los estudiantes deben entrar por la puerta este del estadio y dirigirse a la puerta enrollable de la casa de campo (ver imagen a continuación). Luego, los estudiantes procederán al gimnasio con aire acondicionado, donde encontrarán un asiento con su nombre y escucharán las instrucciones de último minuto antes de hacer fila para la ceremonia.

Llegada de la familia / invitados
Hay espacios de estacionamiento limitados disponibles, por lo que las familias / invitados deben llegar en un solo vehículo con su estudiante, nuevamente no antes de las 3:15 pm Las familias / invitados deben ingresar por Lies Road como se muestra en la imagen a continuación.

Entradas / Entradas para invitados Las
puertas del estadio se abrirán al público para la graduación a partir de las 3:20 pm La entrada principal para invitados al estadio será la puerta oeste. Los invitados que requieran asistencia especial entrarán por la puerta este del estadio.

Cada familia recibió 3 boletos por correo de EE. UU. Para ser utilizados por los invitados a la ceremonia. Se requieren copias originales de los boletos para ingresar a la ceremonia ya que tendremos un límite estricto de asistencia. Los boletos de cada familia son únicos y no deben reproducirse, ya que esto puede resultar en que los miembros de la familia sean rechazados. Tenga en cuenta que no hay asientos asignados para esta ceremonia.
Al ingresar, habrá líneas de admisión separadas según el estudiante. apellido. Busque la señalización y las instrucciones de los miembros del personal para ingresar usando la línea del apellido del estudiante que figura en su boleto.

Consideraciones de COVID-19
El personal del CCSD93 desinfectará todas las áreas de asientos entre ceremonias. Los asistentes deben cumplir con lo siguiente:
Todos los asistentes deben usar una máscara durante todo el evento.
Todos los asistentes deben estar libres de los síntomas de COVID-19 que se encuentran en www.ccsd93.com/screen. La asistencia a este evento sirve como certificación del asistente de que no tiene síntomas.
Se requiere distanciamiento social durante este evento. Todos los asistentes deben mantener una distancia de 6 pies de los miembros fuera de su fiesta y adherirse a la señalización para garantizar la distancia social.
El incumplimiento de cualquiera de estos términos y condiciones puede resultar en la expulsión de este evento.

Programa del evento
No habrá programas en papel disponibles en el evento. Está invitado a encontrar una copia del programa del evento en www.ccsd93.com/JP.

Nos complace proporcionar a cada familia una fotografía gratuita de 8x10 "de su hijo, que se tomará inmediatamente después de que el graduado cruce el escenario y se enviará por correo a la familia. Tenga en cuenta: los estudiantes recibirán una cubierta de diploma cuando crucen el escenario para tener en la mano para su fotografía. Debido al diploma relacionado con COVID-19 y los problemas de la cadena de suministro de la portada, volveremos a recoger la portada después de la fotografía y se la enviaremos por correo, completa con el diploma, en las próximas semanas.

Transmisión en vivo Los
familiares, amigos y parientes que no puedan asistir en persona pueden asistir virtualmente a las 4:00 pm el sábado 22 de mayo para una transmisión en vivo del evento en www.ccsd93.com/JSgraduation. El video permanecerá activo para su visualización después de la conclusión del evento.

Salida
Después de la ceremonia, los estudiantes saldrán al estacionamiento para encontrarse con sus familias. Los invitados saldrán por la entrada principal para invitados y las familias deben reunirse con los estudiantes en su automóvil u otro lugar preestablecido fuera del edificio después de la ceremonia. Las familias deben partir en su vehículo por la salida que se muestra en la imagen a continuación. El Departamento de Policía de Carol Stream estará presente para ayudar con la llegada y salida del vehículo.

No se deben tomar fotografías en el lugar antes o después del evento para acomodar las otras ceremonias del día. Si desea tomar fotografías antes o después de la conclusión del evento, haga planes para hacerlo en un espacio que no sea Glenbard North.

¡No podríamos estar más emocionados de celebrar los logros de su hijo con usted!

Atentamente,
David H. Hill, Ed.D.
Superintendente de escuelas
CCSD93