Return to Headlines
Roy DeShane School 3rd Grade Device Exchange & Material Pickup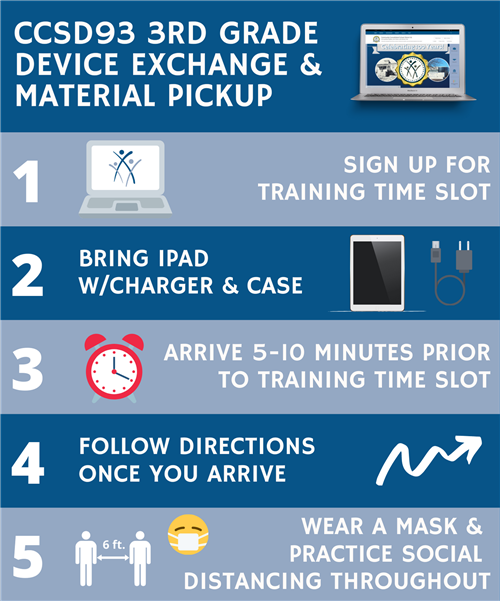 Dear Roy DeShane School Families,
On September 23 & 24, families of Roy DeShane School 3rd grade students are asked to sign up for a time slot to visit Roy DeShane School for 3rd Grade Device Exchange & Material Pickup. The purpose of this event is for 3rd grade students to:
Return their District-issued iPad

Receive a District-issued MacBook and a training on its use

Pick up updated learning materials to use remotely
Whether or not your child will be in-person or remote moving forward, we ask you to participate in this event as the devices and materials need to be in our 3rd graders' hands prior to the tentatively scheduled return to in-person learning. Please know this is separate from the Material Pickup that all other grades at our school are participating in.

Please review the following 5-step process to ensure a smooth pickup!


1. Sign up for a Training Time Slot on 9/23 & 9/24
Please follow the directions below to sign up for a 25-minute training time slot for you and your 3rd grade student to visit our school, turn in the iPad, receive the MacBook and a training on its use, and receive additional learning materials for your child to use remotely.

We have a number of time slots available between 2:15 and 3:45 on 9/23 and 9/24. For the health and safety of all, we ask that one parent and their 3rd grade student attend, and we will have a limit of 10 parent/student pairs at each time slot. If you need to bring more than one child for childcare reasons, please reach out to me using the contact information at the bottom of this message.

To sign up for a time slot:
Visit

this signup website

.

Select the "Sign Up" checkbox next to your preferred date & time slot.

Select "Submit and Sign Up" at the bottom of the page.

You will be taken to a summary page where you will be asked to fill in contact information.

Click "Sign Up Now" at the bottom of the page.

You will be taken to a confirmation page and an email will be sent to you with a reminder of your time slot.




2. Bring Your Child's District-Issued iPad in its Case & Charger to Your Training
If you do not return your iPad, you may participate in MacBook training but will not be issued a MacBook to take home until the iPad is returned to the school.


3. Arrive 5-10 Minutes Prior to Your Training Time Slot
Be sure to arrive at our school 5-10 minutes prior to your time slot so that we can most safely and efficiently help you and your child through the training. Visitors should enter through our front entrance and follow the safety procedures listed below throughout.
4. Follow Directions Once You Arrive
You will be taken to a shared space that has been cleaned and sanitized with tables set up to allow social distancing for you and your child. Please be sure to follow staff directions for the health and safety of all.
5. Wear a Mask & Practice Social Distancing Throughout
Be sure that you and your child wear a mask and practice social distancing throughout your time at the school.
We are excited to see you! Please reach out to me using the contact information below if you have any questions or concerns.
Sincerely,
Amy Gray
Principal
Roy DeShane School
630-588-6300
graya@ccsd93.com
---
Estimadas familias de la escuela Roy DeShane:
El 23 y 24 de septiembre, se les pide a las familias de los estudiantes de tercer grado de la escuela Roy DeShane que se registren en un horario para visitar la escuela Roy DeShane para el intercambio de dispositivos y Recogida de material. El propósito de este evento es que los estudiantes de 3er grado:
Devuelvan su iPad emitido por el Distrito

Reciban una MacBook emitida por el Distrito y una capacitación sobre su uso

Recojan materiales de aprendizaje actualizados para usar de forma remota
Si su hijo estará o no en persona o de forma remota En el futuro, le pedimos que participe en este evento ya que los dispositivos y materiales deben estar en manos de nuestros estudiantes de 3er grado antes del regreso programado tentativamente al aprendizaje en persona. Tenga en cuenta que esto es independiente de la recogida de material en la que participan todos los demás grados de nuestra escuela. ¡

Revise el siguiente proceso de 5 pasos para garantizar una recogida sin problemas!


1. Regístrese para un horario de capacitación el 23 de septiembre y el 24 de septiembre.
Siga las instrucciones a continuación para inscribirse en un horario de capacitación de 25 minutos para que usted y su estudiante de tercer grado visiten nuestra escuela, entregue el iPad, reciba la MacBook y una capacitación sobre su uso, y reciba materiales de aprendizaje adicionales para que su hijo los use de forma remota.

Tenemos una serie de franjas horarias disponibles entre las 2:15 y las 3:45 del 23/9 y el 24/9. Por la salud y seguridad de todos, pedimos que asistan uno de los padres y su estudiante de tercer grado, y tendremos un límite de 10 parejas de padres / estudiantes en cada horario. Si necesita traer más de un niño por motivos de cuidado infantil, comuníquese conmigo utilizando la información de contacto que se encuentra al final de este mensaje.

Para inscribirse en una franja horaria:
visite

este sitio web de inscripción

.

Seleccione la casilla de verificación "Registrarse" junto a su fecha y hora preferidas.

Seleccione "Enviar y registrarse" en la parte inferior de la página.

Se lo llevará a una página de resumen donde se le pedirá que complete la información de contacto.

Haga clic en "Registrarse ahora" en la parte inferior de la página.

Se le dirigirá a una página de confirmación y se le enviará un correo electrónico con un recordatorio de su franja horaria.




2. Lleve a la capacitación el iPad emitido por el distrito de su hijo en su estuche y cargador
Si no devuelve su iPad, puede participar en la capacitación de MacBook, pero no se le entregará una MacBook para llevar a casa hasta que devuelva el iPad a la escuela.


3. Llegue 5-10 minutos antes de su horario de entrenamiento
Asegúrese de llegar a nuestra escuela 5-10 minutos antes de su horario para que podamos ayudarlo a usted ya su hijo con la capacitación de la manera más segura y eficiente. Los visitantes deben ingresar por nuestra entrada principal y seguir los procedimientos de seguridad que se enumeran a continuación.
4. Siga las instrucciones una vez que
llegue. Lo llevarán a un espacio compartido que ha sido limpiado y desinfectado con mesas preparadas para permitir el distanciamiento social para usted y su hijo. Asegúrese de seguir las instrucciones del personal para la salud y seguridad de todos.
5. Use una
máscara y practique el distanciamiento social en todo momento Asegúrese de que usted y su hijo usen una máscara y practiquen el distanciamiento social durante su tiempo en la escuela.
¡Estamos emocionados de verte! Comuníquese conmigo utilizando la información de contacto a continuación si tiene alguna pregunta o inquietud.
Atentamente,
Amy Gray
Directora
Escuela Roy DeShane
630-588-6300
graya@ccsd93.com