Return to Headlines
Western Trails
Parent Newsletter
4-9-21
en español: tinyurl.com/yer7h6od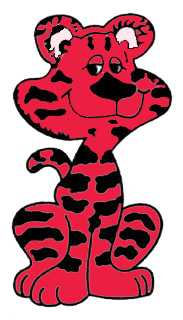 We were happy to welcome our students back to the classroom after the extended break! As a reminder, parents of hybrid students will need to complete the daily screener each morning by 8:15 a.m. The screener is linked here for your convenience. www.ccsd93.com/screen.
It is hard to believe that we have less than two months remaining to this school year. The Board of Education will be determining the last day of student attendance during the Board of Education meeting on Thursday, April 15th. Look for an update in the April 16th Friday E-News.
Online registration information will be coming soon. If you know that your child will not be attending Western Trails School next year because you are moving over the summer, please inform the school office of your plans. It is very helpful to have an accurate list of students to be considered when we are making class lists. Please contact the school if you are certain of your plans. Thank you for your help.
If you would like us to consider specific learning styles and needs of your child when making placement decisions for next year, please submit a letter to Ms. Sebastian through the school office or to sebastj@ccsd93.com. Specific teacher requests will not be honored.
Bonus CATs Opportunity for Full Remote Learners
The CATs team is offering additional CATs daily sessions Tuesday through Friday for remote students who find it difficult to connect concurrently during the hybrid in-person session or for students who would like a bonus opportunity to participate in PE, Art or Music.
Remote students in Kindergarten, 1st and 2nd grade can join the optionalbonus CATs session from 2:00 to 2:30 pm (Tues-Friday). Our 3rd, 4th or 5th graders can join the optional CATs session from 3:00 to 3:30 pm. Students should join the CATs class that was scheduled for the day.
Please be aware that students who are connecting with their teachers for additional assistance or with service providers during these time periods will not be able to participate in the bonus CATs session.
Material Pick up for Full Remote Learners
There will be a student material pickup next Thursday, April 15th for our FULL REMOTE students. Materials can be picked up during curbside pick up from 10:30 a.m. to 12:30 p.m. or after school between 4 and 5:30 p.m. Families of Western Trails students who are FULL REMOTElearners are asked to visit Western Trails School to pick up their child's materials. Please use the front drive-thru and stop at the MAIN ENTRANCE where a staff member will bring the student materials to your car.
Families of hybrid in-person students should NOT come to material pick up. In-person students will receive any materials needed during their school hours.
Western Trails Literacy Night
Please mark your calendars to join us for the Western Trails Family Literacy Night virtual event on Thursday, April 22nd at 6:30 - 7:00 p.m. via Zoom. This event will include Wildcat poets, a SURPRISE guest winner, raffle prizes and family fun! Be on the lookout for the Zoom link to be sent later this month!
Upcoming PTA Event
Please consider supporting the Western Trails PTA by dining at the Bloomingdale Texas Roadhouse restaurant on Tuesday, April 20th. Dine-in or pick up to-go dinner between 3:00 - 9:00 pm and the Western Trails PTA will receive 10% of the total purchase.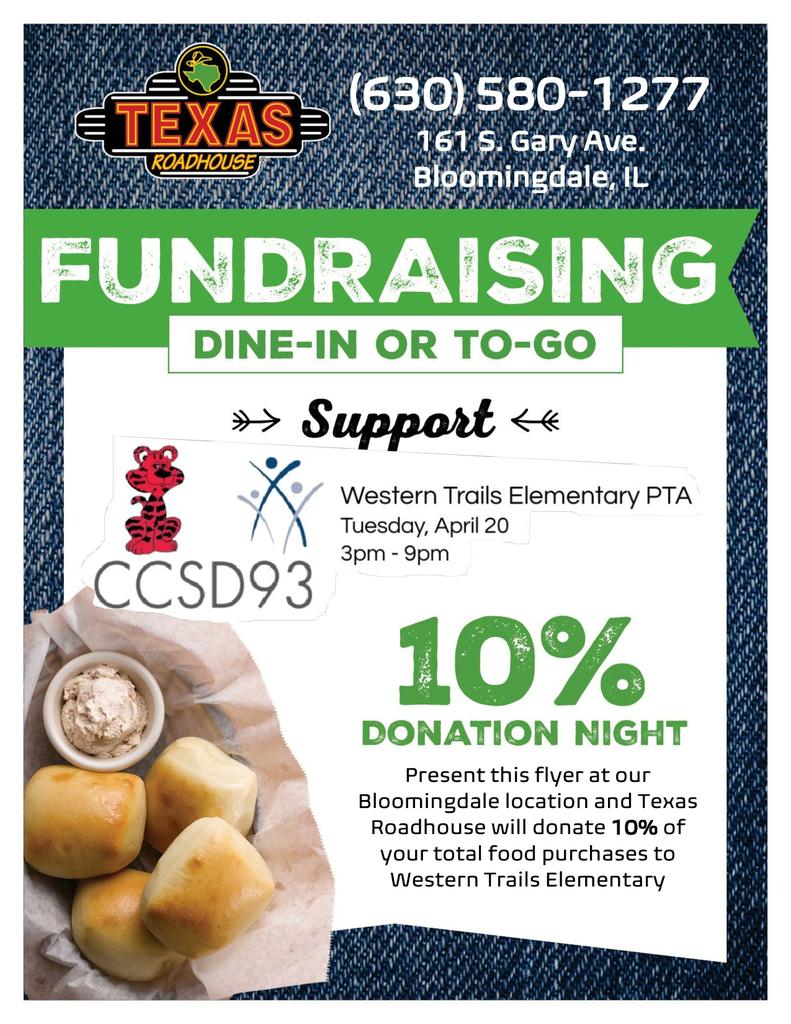 High-quality communication is one of our goals. We welcome your feedback. Please call 630-588-6400 or email us with your comments or suggestions