Return to Headlines
Intramural Sports Available to CCSD93 Middle School Students - Commit by 4/14!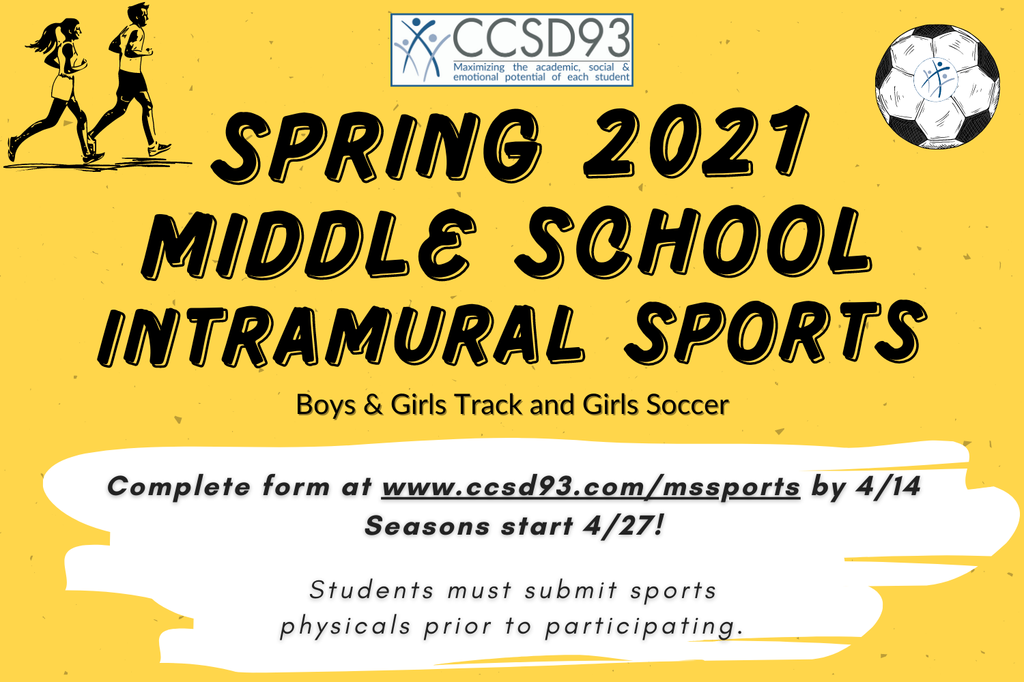 Dear CCSD93 Middle School Families,

As CCSD93 continues to strive toward an educational experience that more closely resembles the opportunities available to students prior to the pandemic, we are pleased to offer outdoor intramural athletics to middle school students beginning later this month. Please review the following for details and to make a commitment for your child to participate by April 14, 2021.

Both Jay Stream and Stratford middle schools will offer intramural seasons for our typical outdoor spring sports of 6th-8th grade track for all students and 7th & 8th grade girls soccer.


Student Commitment
If your child would like to commit to participating, please:
Complete this form by Wednesday, April 14, 2021.
Submit a current sports physical to the school nurse before your child will be allowed to participate.
The intramural season is scheduled to begin Tuesday, April 27, 2021 and conclude just prior to the end of the school year. Student physicals must have been completed no earlier than May 26, 2020. Students who received a sports physical and have since tested positive for COVID-19 are required to obtain a new physical before participating.

If your child does not have a current sports physical and you are unable to schedule one prior to April 27, your child may not begin the season but will be able to start participating once the physical has been completed and submitted to the school nurse. All 6th-8th grade students may participate in track and all 7th & 8th grade girls may participate in soccer. Students may not participate in multiple sports.


Daily Schedule
All sports will take place outdoors Tuesday through Friday beginning at 3:30 p.m. and concluding at 5:00 p.m. It will be an intramural season, with instruction and in-house competition. There will be no competition between schools. Students will not have access to the interior of the school. They should dress appropriately for the day's weather and bring water. Students may not bring food.

Community bus stops will be available for student pickup and drop off. Those bus stops and health and safety requirements for bus riding will be shared with families prior to the start of the season.

Should a day need to be canceled due to weather, we will communicate with parents via automated call, text and email.


Health & Safety
Students will be required to wear a mask throughout all sports activities. CCSD93 will take steps to ensure social distancing as much as possible throughout. Frequently touched sports equipment will be sanitized regularly. Attendance will be taken at the start of each day so that we are able to contact trace, should a student become diagnosed with COVID-19.

We are excited to offer this opportunity to our students. Again, please complete the form linked above no later than Wednesday, April 14 for your child to commit to participating. If you have questions, please reach out to your child's school using the contact information found at www.ccsd93.com/schools.

Sincerely,

David H. Hill, Ed.D.
Superintendent of Schools
CCSD93
---
Estimadas familias de la escuela secundaria CCSD93,

A medida que CCSD93 continúa esforzándose por lograr una experiencia educativa que se asemeje más a las oportunidades disponibles para los estudiantes antes de la pandemia, nos complace ofrecer deportes al aire libre intramuros a los estudiantes de la escuela intermedia a partir de finales de este mes. Revise lo siguiente para obtener más detalles y comprometerse a que su hijo participe antes del 14 de abril de 2021.

Las escuelas intermedias Jay Stream y Stratford ofrecerán temporadas intramuros para nuestros típicos deportes de primavera al aire libre de pista de sexto a octavo grado para todos los estudiantes y fútbol femenino de séptimo y octavo grado.


Compromiso del estudiante
Si a su hijo le gustaría comprometerse a participar, por favor:
Complete este formulario antes del miércoles 14 de abril de 2021.
Envíe un examen físico deportivo actual a la enfermera de la escuela antes de que se le permita participar a su hijo.
La temporada intramuros está programada para comenzar el martes 27 de abril de 2021 y concluir justo antes del final del año escolar. Los exámenes físicos de los estudiantes deben haberse completado no antes del 26 de mayo de 2020. Los estudiantes que recibieron un examen físico deportivo y desde entonces dieron positivo por COVID-19 deben obtener un nuevo examen físico antes de participar.

Si su hijo no tiene un examen físico deportivo actual y usted no puede programar uno antes del 27 de abril, es posible que su hijo no comience la temporada, pero podrá comenzar a participar una vez que el examen físico se haya completado y enviado a la enfermera de la escuela. Todos los estudiantes de sexto a octavo grado pueden participar en la pista y todas las niñas de séptimo y octavo grado pueden participar en fútbol. Los estudiantes no pueden participar en múltiples deportes.


Horario diario
Todos los deportes se llevarán a cabo al aire libre de martes a viernes comenzando a las 3:30 pm y concluyendo a las 5:00 pm Será una temporada intramuros, con instrucción y competencia interna. No habrá competencia entre escuelas. Los estudiantes no tendrán acceso al interior de la escuela. Deben vestirse apropiadamente para el clima del día y traer agua. Los estudiantes no pueden traer comida.

Las paradas de autobús de la comunidad estarán disponibles para recoger y dejar a los estudiantes. Esas paradas de autobús y los requisitos de salud y seguridad para viajar en autobús se compartirán con las familias antes del inicio de la temporada.

Si es necesario cancelar un día debido al clima, nos comunicaremos con los padres a través de llamadas automáticas, mensajes de texto y correo electrónico.


Salud y Seguridad
Se requerirá que los estudiantes usen una máscara durante todas las actividades deportivas. CCSD93 tomará medidas para garantizar el distanciamiento social tanto como sea posible en todo momento. El equipo deportivo que se toca con frecuencia se desinfectará con regularidad. La asistencia se tomará al comienzo de cada día para que podamos comunicarnos con el seguimiento, en caso de que un estudiante sea diagnosticado con COVID-19.

Estamos emocionados de ofrecer esta oportunidad a nuestros estudiantes. Nuevamente, complete el formulario vinculado anteriormente a más tardar el miércoles 14 de abril para que su hijo se comprometa a participar. Si tiene preguntas, comuníquese con la escuela de su hijo utilizando la información de contacto que se encuentra en www.ccsd93.com/schools.

Atentamente,

David H. Hill, Ed.D.
Superintendente de escuelas
CCSD93