Return to Headlines
Join Your Child's School for Virtual Curriculum Night!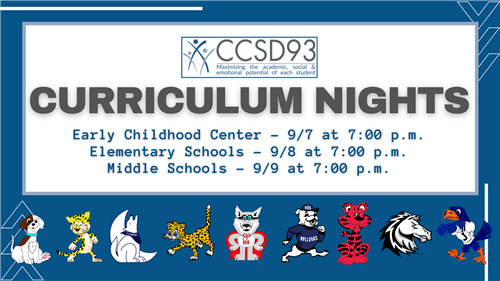 After greater parent attendance and positive feedback from last year's virtual Curriculum Nights, we will be bringing them back this school year the week after Labor Day. The ECC will be Tuesday (9/7), elementary schools will be Wednesday (9/8), and middle schools will be Thursday (9/9), all at 7:00 p.m. By attending Curriculum Night virtually, parents will become better acquainted with their child's education and school this school year through video presentations from their child's principal and teachers.

The evening will begin with families collectively joining their school's principal for a singular YouTube Premiere Curriculum Night event where they will receive a general overview on the school year, including the school's goals and additional important notes. From there, parents will be linked to a website where they will find videos from their child's teachers. Teachers will cover how they are working to build relationships, how students are being supported academically, information about assessment and grading, and more.

Please be sure to join your child's school for the virtual Curriculum Night at the appropriate date and time listed above by visiting the URL indicated. You will be sent email, text, and app push reminders with your child's YouTube Premiere Curriculum Night link the day before and the evening of the event.

Thank you!
---
Después de una mayor asistencia de padres y comentarios positivos de las Noches de currículo virtuales del año pasado, los regresaremos este año escolar la semana después del Día del Trabajo. El ECC será el martes (9/7), las escuelas primarias serán el miércoles (9/8) y las escuelas intermedias serán el jueves (9/9), todo a las 7:00 pm Al asistir virtualmente a la Noche del Currículo, los padres mejorarán familiarizado con la educación y la escuela de su hijo este año escolar a través de presentaciones en video del director y los maestros de su hijo.

La noche comenzará con las familias que se unirán colectivamente al director de la escuela para un evento singular de la Noche del currículo de estreno en YouTube, donde recibirán una descripción general del año escolar, incluidas las metas de la escuela y notas importantes adicionales. A partir de ahí, los padres estarán vinculados a un sitio web donde encontrarán videos de los maestros de sus hijos. Los maestros cubrirán cómo están trabajando para construir relaciones, cómo se apoya académicamente a los estudiantes, información sobre evaluaciones y calificaciones, y más.

Asegúrese de unirse a la escuela de su hijo para la Noche del Currículo virtual en la fecha y hora indicadas anteriormente visitando la URL indicada. Se le enviarán recordatorios por correo electrónico, mensajes de texto y aplicaciones con el enlace de la Noche del plan de estudios de estreno de YouTube de su hijo el día anterior y la noche del evento.

¡Gracias!