Return to Headlines
Schedule Your CCSD93 Student-Led Conferences Today!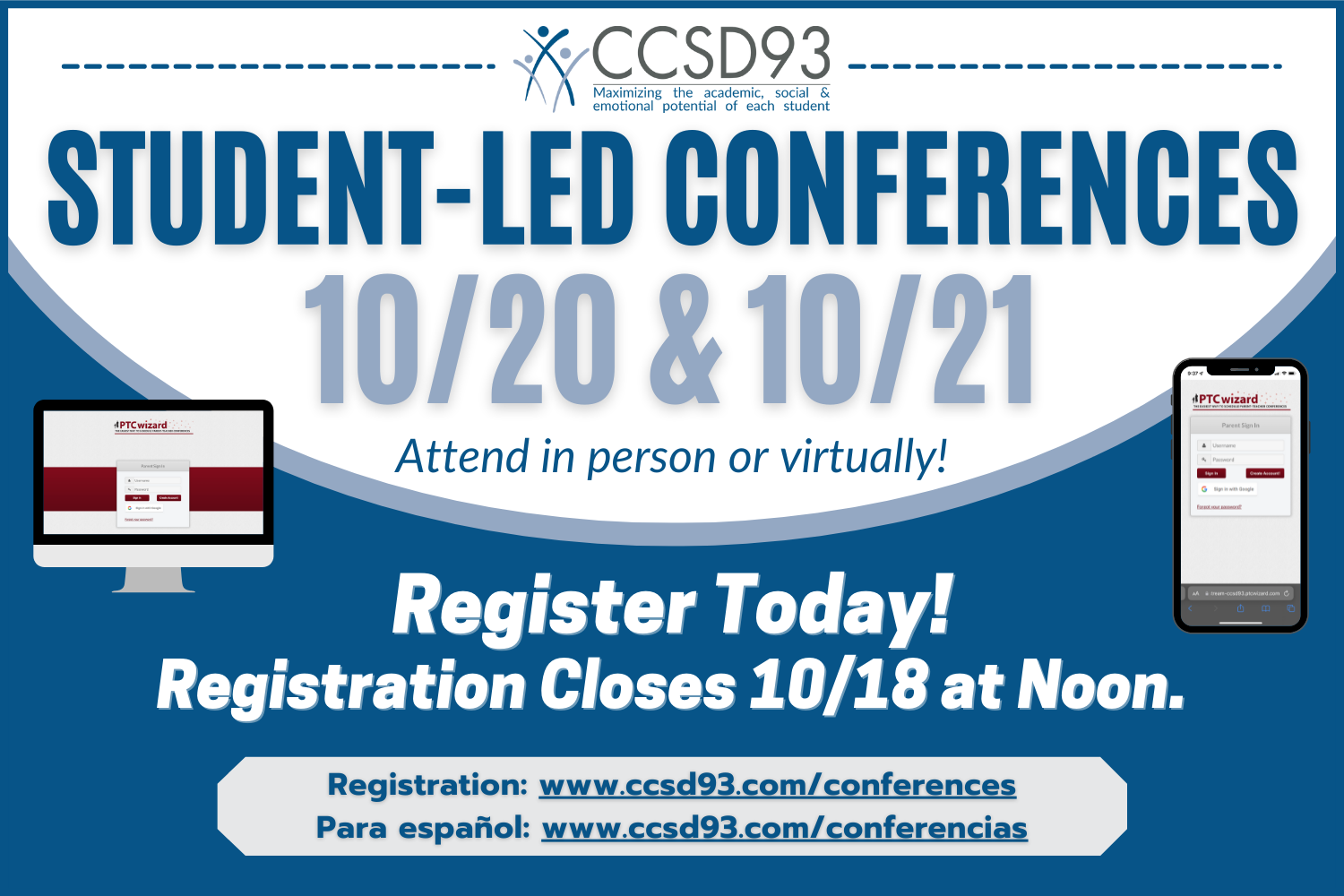 This year, CCSD93's parent/teacher conferences will continue to take the form of Student-Led Conferences, as students will once again participate with their parents and teachers to celebrate successes and identify areas for growth. You will have the choice to hold your conferences in person or virtually.
Important Notes:
Conferences will be held October 20 and 21.
The week of conferences, students will attend class during the typical "Monday schedule" each day from Monday, October 18 through Thursday, October 21, and there will be no school Friday, October 22.
Parents are once again asked to use PTC Wizard, an online scheduling tool, to set up conferences any time between Friday, October 1 at noon and Monday, October 18 at noon. To register and schedule your conferences, visit www.ccsd93.com/conferences.
After completing registration through PTC Wizard, you will have the option to complete a follow up form to indicate that you would like to attend your conference(s) virtually via Zoom. A link to the follow up Zoom request form will be included in your PTC Wizard confirmation email. Then, the week of conferences, you will receive the Zoom link to join during your scheduled conference time.
Thank you.
---
Este año, las conferencias de padres y maestros de CCSD93 continuarán tomando la forma de conferencias dirigidas por estudiantes, ya que los estudiantes una vez más participarán con sus padres y maestros para participar en la celebración de éxitos e identificar áreas de crecimiento. Tendrá la opción de realizar sus conferencias en persona o virtualmente.
Las Notas importantes:
Las conferencias se llevarán a cabo el 20 y 21 de octubre.
La semana de conferencias, los estudiantes asistirán a clases durante el típico "horario de lunes" todos los días desde el lunes 18 de octubre hasta el jueves 21 de octubre, y no habrá clases el viernes de octubre. 22.
Una vez más se les pide a los padres que usen PTC Wizard, una herramienta de programación en línea, para programar conferencias en cualquier momento entre el viernes 1 de octubre al mediodía y el lunes 18 de octubre al mediodía. Para registrarse y programar sus conferencias, visite www.ccsd93.com/conferencias.
Después de completar el registro a través del Asistente de PTC, tendrá la opción de completar un formulario de seguimiento para indicar que le gustaría asistir a sus conferencias virtualmente a través de Zoom. Se incluirá un enlace al formulario de solicitud de seguimiento de Zoom en el correo electrónico de confirmación del Asistente de PTC. Luego, la semana de conferencias, recibirá el enlace de Zoom para unirse durante el tiempo de conferencia programado.
Gracias.