Return to Headlines
Share Your Perspective With CCSD93 Through Portrait of a Graduate Process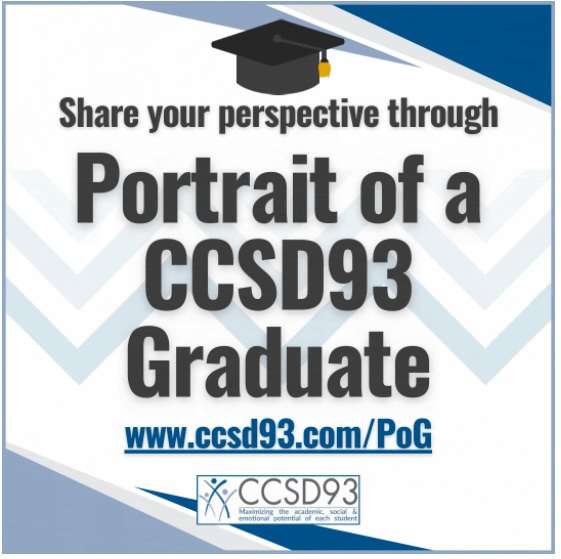 November 3, 2021

Dear CCSD93 Parents,

CCSD93 is in the fourth year of the 2018-23 Strategic Plan, our guiding framework. The educational and societal landscape has shifted dramatically since its onset, and we are starting to look forward to building our next Strategic Plan.

Next week, we will begin working with community members, parents, students and staff members to start to frame a new vision for the district that reflects our collective aspirations for all students by creating what we are calling the Portrait of a CCSD93 Graduate.

The Portrait of a CCSD93 Graduate will be produced in partnership with a third party strategic planning organization and will consist of two parts:
the process of gathering substantial input from all of our stakeholder voices through interviews, focus groups, community forums and surveys, and
a resulting document that will identify the ideal attributes our community desires for our students to acquire by 8th grade graduation.
As a CCSD93 parent, no matter what grade level your child is currently in, you are invited to lend your voice to a focus group to share your vision for CCSD93's students. If you would be willing to participate, please complete the form at www.ccsd93.com/PoG.

The focus group date(s) are currently being finalized, and we will reach out once they are. They should last about an hour. Our goal is to hold them in the evening for your convenience. Please know in an effort to promote authentic and uninhibited conversations, the focus groups will be led by our strategic planning partners, and no CCSD93 staff members will be in attendance.

Thank you for your consideration.

Sincerely,

David H. Hill, Ed.D.
Superintendent of Schools
CCSD93
---
Estimados padres de CCSD93,

CCSD93 se encuentra en el cuarto año del Plan Estratégico 2018-23, nuestro marco rector. El panorama educativo y social ha cambiado drásticamente desde su inicio, y estamos empezando a esperar la construcción de nuestro próximo Plan Estratégico.

La próxima semana, comenzaremos a trabajar con miembros de la comunidad, padres, estudiantes y miembros del personal para comenzar a enmarcar una nueva visión para el distrito que refleje nuestras aspiraciones colectivas para todos los estudiantes al crear lo que llamamos el Retrato de un graduado del CCSD93.

El Retrato de un graduado de CCSD93 se producirá en asociación con una organización de planificación estratégica de terceros y constará de dos partes:
el proceso de recopilación de aportes sustanciales de todas las voces de nuestros interesados ​​a través de entrevistas, grupos de enfoque, foros y encuestas de la comunidad, y
un documento resultante que identificará los atributos ideales que nuestra comunidad desea que nuestros estudiantes adquieran para la graduación del octavo grado.
Como padre de familia de CCSD93, no importa en qué nivel de grado se encuentre actualmente su hijo, está invitado a prestar su voz a un grupo de enfoque para compartir su visión para los estudiantes de CCSD93. Si estaría dispuesto a participar, complete el formulario en www.ccsd93.com/PoGesp.

Las fechas de los grupos focales se están finalizando actualmente y nos comunicaremos una vez que lo estén. Deben durar aproximadamente una hora. Nuestro objetivo es celebrarlos por la noche para su conveniencia. Tenga en cuenta que, en un esfuerzo por promover conversaciones auténticas y desinhibidas, los grupos de enfoque serán dirigidos por nuestros socios de planificación estratégica y no asistirá ningún miembro del personal de CCSD93.

Gracias por su consideración.

Atentamente,

David H. Hill, Ed.D.
Superintendente de escuelas
CCSD93