Return to Headlines
Register Your Child for 2022-23 School Year Today!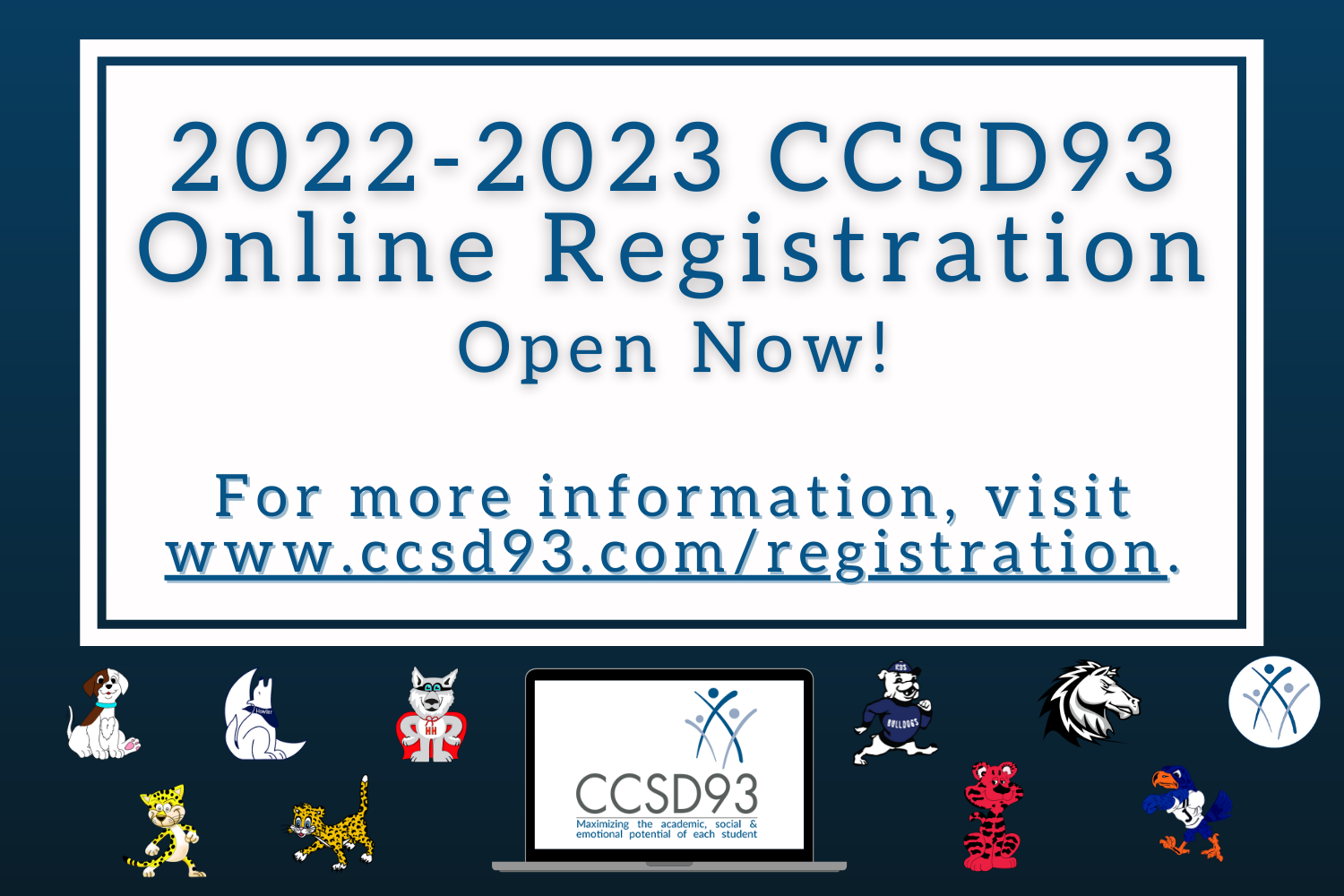 Dear CCSD93 Parent,
We're pleased to share that online registration for the 2022-23 school year is now open, and it's now easier than ever to register your child! You're simply asked to log in to your existing TeacherEase account to register currently enrolled students for next school year. There is no need for you to log into a separate system anymore.
To help CCSD93 best prepare for next school year, please follow the directions below to register as soon as possible, and no later than April 29, 2022. If your child will not be attending CCSD93's schools next year, please reach out to your child's school to inform them.
To Register Your Currently Enrolled Student(s) for 2022-23:
Visit www.teacherease.com from a desktop or mobile device, select "Log In" and log in with your existing TeacherEase account credentials.

Note: Registration is not currently available through the TeacherEase app.

Click the "Online Registration" link in the Information box at the top of the page.
Select the "Continue registering existing student(s):" option and click "Continue."

Note: DO NOT select the "Register a new student(s)…" option above that.

Complete registration and payment for your student(s)!
To Register a New Student for 2022-23:
DO NOT simply select the "Register a new student(s)…" option in TeacherEase's online registration portal.
If you have an incoming kindergartener, visit www.ccsd93.com/kindergarten to begin the kindergarten registration process if you have not already done so.
If you have a student entering 1st-8th grade who did not attend CCSD93 this school year, visit www.ccsd93.com/newstudent.
If you are interested in registering a new preschooler at the Early Childhood Center (ECC), complete the steps at www.ccsd93.com/preschool to be placed in a queue for potential placement for the 2022-23 school year.
Once you complete any of these forms, or if you already have done so, you will be reached out to by your child's school soon with instructions on how to add your new student.
Need Additional Assistance?
If you have never logged into TeacherEase, you were most recently sent an email with information on establishing your TeacherEase account from no-reply@teacherease.com on Monday, April 4 at about 3:30 p.m. Please follow those instructions to establish your TeacherEase account and then register your child for next school year following the directions above.
If you have logged into TeacherEase before but forgot your login information, please use the "Forgot password?" option in the "Log In" section of TeacherEase.
If you need the online registration form translated, please ensure your web browser is set to translate to your language.

Parents of 3rd-8th grade students who take home a district device are invited to follow these instructions to change the default language setting in Safari.

If you need additional assistance, you may call your child's school or stop in to register on a district computer.
Thank you!


---

Estimado padre de CCSD93:
Nos complace compartir que la inscripción en línea para el año escolar 2022-23 ya está abierta, ¡y ahora es más fácil que nunca registrar a su hijo! Simplemente se le pide que inicie sesión en su cuenta TeacherEase existente para registrar a los estudiantes inscritos actualmente para el próximo año escolar. Ya no es necesario que inicie sesión en un sistema separado.
Para ayudar a CCSD93 a prepararse mejor para el próximo año escolar, siga las instrucciones a continuación para registrarse lo antes posible y a más tardar el 29 de abril de 2022. Si su hijo no asistirá a las escuelas de CCSD93 el próximo año, comuníquese con la escuela de su hijo. para informarles.
Para registrar a su(s) estudiante(s) actualmente inscrito(s) para 2022-23:
Visite www.teacherease.com desde una computadora de escritorio o dispositivo móvil, seleccione "Iniciar sesión" e inicie sesión con las credenciales de su cuenta TeacherEase existente.

Nota: Actualmente, el registro no está disponible a través de la aplicación TeacherEase.

Haga clic en el enlace "Registro en línea" en el cuadro de información en la parte superior de la página.
Seleccione la opción "Continuar registrando estudiante(s):" y haga clic en "Continuar".

Nota: NO seleccione la opción "Registrar un nuevo estudiante (s) ..." arriba de eso.

¡Complete el registro y el pago de su(s) estudiante(s)!
Para registrar un nuevo estudiante para 2022-23:
NO simplemente seleccione la opción "Registrar un nuevo estudiante (s) ..." en el portal de registro en línea de TeacherEase.
Si tiene un niño que ingresará a kindergarten, visite www.ccsd93.com/kinder para comenzar el proceso de registro de kindergarten si aún no lo ha hecho.
Si tiene un estudiante que ingresa a los grados 1 a 8 que no asistió a CCSD93 este año escolar, visite www.ccsd93.com/newstudent.
Si está interesado en inscribir a un nuevo niño en edad preescolar en el Centro de Primera Infancia (ECC), complete los pasos en www.ccsd93.com/preschool para ser colocado en una fila para una posible ubicación para el año escolar 2022-23.
Una vez que complete cualquiera de estos formularios, o si ya lo ha hecho, la escuela de su hijo se comunicará con usted pronto con instrucciones sobre cómo agregar a su nuevo estudiante.
¿Necesita asistencia adicional?
Si nunca ha iniciado sesión en TeacherEase, recientemente se le envió un correo electrónico con información sobre cómo establecer su cuenta de no-reply@teacherease.com el lunes 4 de abril a las 3:30 p. m. Siga esas instrucciones para establecer su cuenta de TeacherEase y luego registre a su hijo para el próximo año escolar siguiendo las instrucciones anteriores.
Si ha iniciado sesión en TeacherEase anteriormente pero olvidó su información de inicio de sesión, utilice la opción "¿Olvidó su contraseña?" en la sección "Iniciar sesión" de TeacherEase.
Si necesita traducir el formulario de registro en línea, asegúrese de que su navegador web esté configurado para traducir a su idioma.

Se invita a los padres de estudiantes de 3.° a 8.° grado que se llevan a casa un dispositivo del distrito a seguir estas instrucciones para cambiar la configuración de idioma predeterminada en Safari.

Si necesita ayuda adicional, puede llamar a la escuela de su hijo o pasar para registrarse en una computadora del distrito.
¡Gracias!