Serving Bloomingdale, Carol Stream, and Hanover Park
Return to Headlines
CCSD93 In-Person School Day Timing Update (CCSD93 Actualización del horario del día escolar en persona)

Dear CCSD93 Community,

Last week, CCSD93 surveyed parents regarding their support for shortening the in-person learning days (Tuesday through Friday) to enable students learning remotely during those days to receive additional meaningful feedback, instructional support and/or social-emotional support directly from their teacher(s). Thank you to all families who were able to share your perspective on this matter.

As you may have seen in tonight's Town Hall Meeting, and as shown in the survey results depicted in the image below, CCSD93's Length of School Day Survey data indicates that 64% of 2,269 responding parents support shortening the in-person learning days.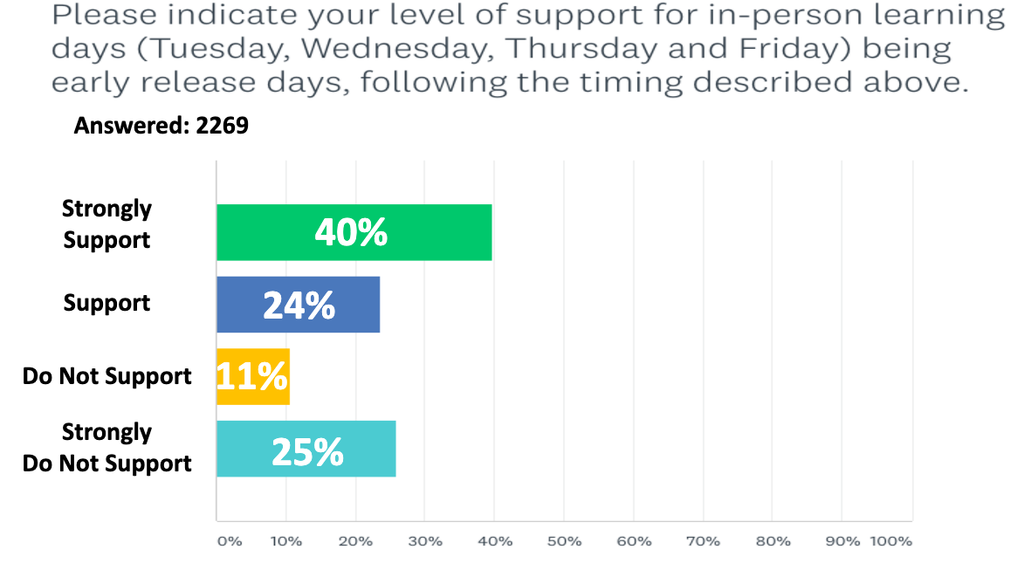 As a result of this, on Tuesday through Friday each week, in-person middle school students will attend school from 8:00 a.m. to 1:45 p.m. and in-person elementary students will attend school from 8:45 a.m. to 2:15 p.m.

We will continue to remind parents of this new timing moving forward and are working with the park district to ensure the ActivKids after-care program is extended daily for our families who need it.

Thank you for your continued support as we adjust to best meet the needs of students.

Sincerely,

David H. Hill, Ed.D.
Superintendent of Schools
CCSD93
---
Estimada comunidad CCSD93:

La semana pasada, CCSD93 encuestó a los padres sobre su apoyo para acortar los días de aprendizaje en persona (de martes a viernes) para permitir que los estudiantes que aprenden de forma remota durante esos días reciban comentarios significativos adicionales, apoyo educativo y / o apoyo socioemocional directamente de su maestro ( s) Gracias a todas las familias que pudieron compartir su perspectiva sobre este asunto.

Como puede haber visto en la reunión del ayuntamiento de esta noche, y como se muestra en los resultados de la encuesta que se muestran en la imagen a continuación, los datos de la Encuesta de duración del día escolar del CCSD93 indican que el 64% de 2,269 padres que respondieron apoyan acortar los días de aprendizaje en persona.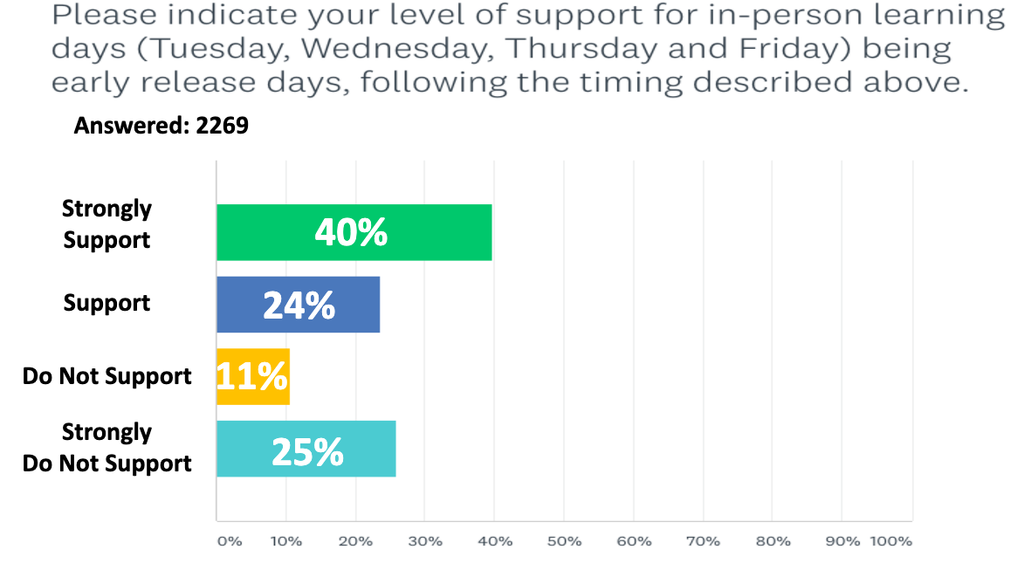 Como resultado de esto, de martes a viernes de cada semana, los estudiantes de escuela intermedia en persona asistirán a la escuela de 8:00 a.m. a 1:45 p.m. y los estudiantes de primaria en persona asistirán a la escuela de 8:45 a.m. a 2:15 a.m. pm

Continuaremos recordando a los padres sobre este nuevo momento en el futuro y estamos trabajando con el distrito del parque para garantizar que el programa de cuidado posterior ActivKids se extienda diariamente para nuestras familias que lo necesitan.

Gracias por su continuo apoyo mientras nos adaptamos para satisfacer mejor las necesidades de los estudiantes.

Sinceramente,

David H. Hill, Ed.D.
Superintendente de Escuelas
CCSD93