Serving Bloomingdale, Carol Stream, and Hanover Park
Return to Headlines
Updated CCSD93 In-Person Learning Plan for Kindergarten-5th Grade
Updated January 5, 2021
Dear CCSD93 Community,
I am pleased to share our updated plan for providing kindergarten through 5th grade students with in-person learning opportunities moving forward. Please review the following in its entirety.
Updated In-Person Hybrid Learning Plan for Grades Kindergarten-5
You can find the full updated in-person Hybrid Learning plan linked at www.ccsd93.com/reopening.
Important Highlights:
Students will be separated into A and B attendance groups, however they will each attend in-person school Tuesday through Friday, with Group A attending in the morning and Group B attending in the afternoon. They will be entirely remote on Mondays.
You received notification of your child's most recent placement via email on 1/5/21.

Students will be assigned to groups, and their previously assigned grouping from the fall may not be their grouping for this updated plan. CCSD93 will work to keep siblings assigned to the same grouping.

All elementary students will attend school entirely remotely on Mondays from 8:45 a.m. to 2:15 p.m.
Hybrid Learning Group A will attend school offsite (remotely) during Hybrid Learning Group B's in-person learning times, while Group B will attend school offsite (remotely) during Group A's in-person learning times.
Hybrid Learning Group A will attend school in person (while Hybrid Learning Group B learns offsite):


Tuesday-Friday: 8:45-11:20 a.m.

Hybrid Learning Group B will attend school in person (while Hybrid Learning Group A learns offsite):




Tuesday-Friday: 1:10-3:45 p.m.
For more information on school day timing, visit this website.
Key Health & Safety Requirements
As previously shared, those returning to in-person learning will be required to adhere strictly to the following safety protocols without exception:
Students are required to wear a mask for the entire duration of in-person learning and on school buses.

Students are required to maintain social distancing of six (6) feet at all times. This means that student socialization while in school will be vastly different than years past.

Families are required to submit a daily COVID-19 Self-Screener for each child before leaving for school, and if the student has experienced any of the listed symptoms or potential exposure, they must stay home.
In addition, each CCSD93 school will have the following safety protocols in place:
Classrooms will be cleaned and disinfected between the morning and afternoon sessions.

Classrooms will be cleaned and disinfected in the evening.

Should a COVID-19 case become present:

CCSD93 will strictly follow cleaning and sanitizing protocols.

CCSD93 will work with the DCHD to strictly follow contact tracing and quarantine procedures.
Why Morning & Afternoon Groupings?
This eliminates lunch time, which public health guidance has continued to caution as a significant risk for transmission because students cannot wear masks while they eat and droplets known to carry COVID-19 have a much greater chance of spreading.

This reduces the total amount of time students will wear a mask in a given day as they can remove the mask when they arrive home.

This enables teachers and students to connect in-person more frequently.
Timing - Tiered Dates for Return
The updated plan will bring students back in tiers, prioritizing the return of our "least independent learners" to in-person learning first. This means that individual students who have been contacted directly by the district to receive special education in-person itinerant service will be back first, followed by our preschool students, then kindergarten and then subsequent grade levels. Our least independent learners have the greatest need for in-person instructional opportunities.

By bringing students back in tiers, CCSD93's schools are able to more effectively implement, establish procedures for, and make appropriate adjustments to schoolwide practices to faithfully follow District protocols for the health and safety of all students and staff members.
Critical Factors Influencing the Plan
The health and safety of our students, staff members and community at large have been the driving factors in our decisions from the onset of the pandemic. Health experts continue to learn about the virus, and our public health organizations consistently provide updated guidance to school districts, including CCSD93, for the health and safety of all.
The health and safety guidance we have received has continued to prioritize limiting interactions of students outside of small "cohorts", reducing the opportunities our students have to remove their facemasks, maintaining social distance, and frequent handwashing.
Our Community Transmission Risk Level, along with all other health guidance, comprises what we call Health Data. In addition, considerations related to Staffing, Quarantine Restrictions, and Safety Protocol & Equipment influence our ability to hold in-person learning. Please review the graphic below for more information on these four In-Person Learning Factors.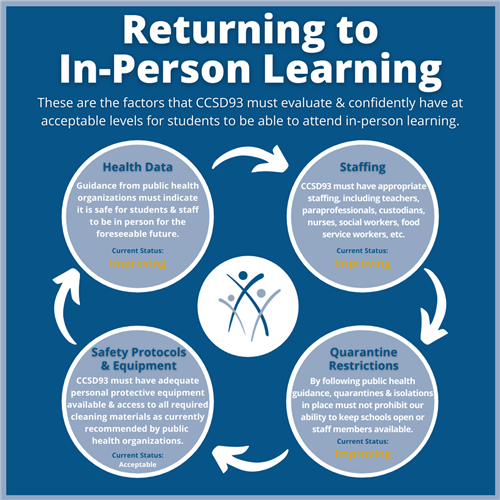 Potential Setbacks
Please be aware that should any of the four In-Person Learning Factors in the graphic above reach levels that are not acceptable, some or all students may need to return to fully remote learning. As recommended by the IDPH, this would be considered an "adaptive pause" to prevent disease transmission. Please reach out to your child's principal with questions.
Sincerely,
David H. Hill, Ed.D.
Superintendent of Schools
CCSD93