Serving Bloomingdale, Carol Stream, and Hanover Park
Return to Headlines
Don't Forget to Schedule Your Student-Led Conferences by 10/20! (¡No olvide programar sus conferencias dirigidas por estudiantes antes del 20/10!)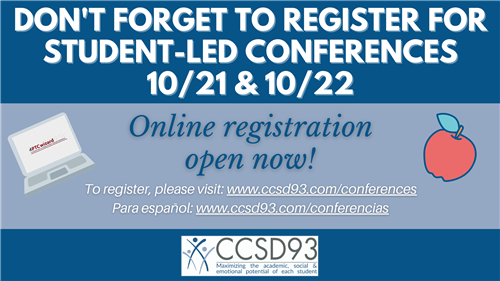 This year, Parent/Teacher Conferences across CCSD93 will continue to take the form of Student-Led Conferences, as students will once again participate in conferences with their parents and teachers.
New for this year:
Conferences will be held about a month earlier than usual, on October 21 and 22, in order to help our students and families evaluate and make adjustments sooner into the school year than previously.

The week of Conferences, students will attend class during the typical "Monday schedule" each day from Monday, October 19 through Thursday, October 22, and there will be no school Friday, October 23.

Conferences will be held virtually.

Conferences will take the form of a Student-Led Conference Circle. This format facilitates relationship building and allows each participant (student, parent and teacher) an equal voice, creating further opportunities to celebrate successes and collaboratively identify areas for growth.
Parents are once again asked to use PTC Wizard, an online scheduling tool, to set up conferences. If you haven't yet, you can schedule conferences with PTC Wizard until noon on Tuesday, October 20. If you created a PTC Wizard account for Meet the Teacher this year, you do not need to create a new one. To register and schedule your conferences, visit www.ccsd93.com/conferences. At the time of your scheduled conference, parents and students are asked to connect to their teacher's recurring Zoom link, unless otherwise notified.
Thank you.
---
Este año, las conferencias de padres y maestros en todo el CCSD93 continuarán tomando la forma de conferencias dirigidas por estudiantes, ya que los estudiantes participarán una vez más en conferencias con sus padres y maestros.
Nuevo para este año: las
conferencias se llevarán a cabo aproximadamente un mes antes de lo habitual, el 21 y 22 de octubre, para ayudar a nuestros estudiantes y familias a evaluar y hacer ajustes antes que antes en el año escolar.

La semana de conferencias, los estudiantes asistirán a clases durante el típico "horario de lunes" todos los días desde el lunes 19 de octubre hasta el jueves 22 de octubre, y no habrá clases el viernes 23 de octubre. Las

conferencias se llevarán a cabo virtualmente.

Las conferencias tomarán la forma de un círculo de conferencias dirigido por estudiantes. Este formato facilita la construcción de relaciones y permite a cada participante (estudiante, padre y maestro) una voz igual, creando más oportunidades para celebrar los éxitos e identificar de manera colaborativa áreas de crecimiento.
Una vez más, se les pide a los padres que utilicen PTC Wizard, una herramienta de programación en línea, para organizar conferencias. Si aún no lo ha hecho, puede programar conferencias con PTC Wizard hasta el mediodía del martes 20 de octubre. Si creó una cuenta de PTC Wizard para Meet the Teacher este año, no es necesario que cree una nueva. Para registrarse y programar sus conferencias, visite www.ccsd93.com/conferencias. En el momento de la conferencia programada, se les pide a los padres y estudiantes que se conecten al enlace Zoom recurrente de su maestro, a menos que se les notifique lo contrario.
Gracias.