Serving Bloomingdale, Carol Stream, and Hanover Park
Return to Headlines
Eligible CCSD93 8th Graders Invited to Purchase MacBook Air Computers for $200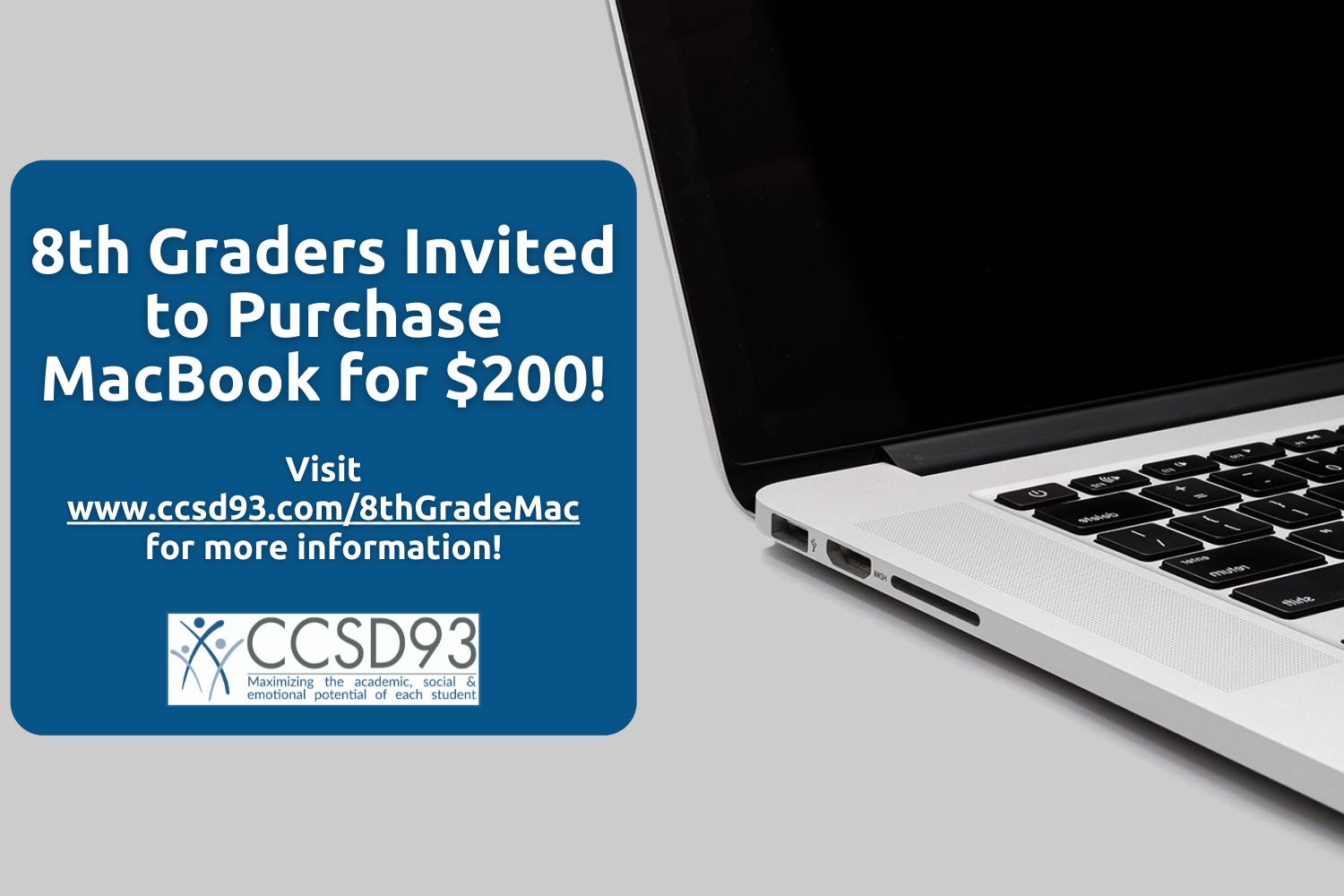 Dear Parents of CCSD93 8th Graders,
Families of all graduating 8th grade students who do not have outstanding school fees are invited to purchase a District-owned MacBook Air laptop computer for $200. Participating students will purchase the computer that they have utilized for the past three years. Those who have been in the District for less than three years will purchase a separate three-year-old MacBook. Before being released to students, the MacBooks will be reset to factory settings.
What's Included?
MacBook Air computer
Current protective sleeve/carrying case
Current charging cord
Apple software
What's Not Included?
Proprietary curriculum software (e.g. Adobe software)
Warranty/AppleCare support
Microsoft Office software
Any documents previously saved by the student
Making Your Purchase
In order to purchase a MacBook, any outstanding fees owed to the District must be paid in full. You may choose from two payment options.


One-Time Payment: Visit www.ccsd93.com/MacPurchase, select your child's school link, and follow the directions to make a one-time payment of $200 via debit card, credit card or echeck by May 19, 2023. If you do not find your child's name on the site, contact CCSD93's Business Office at 630-893-9393.


Four-Month Payment Plan: Complete the form at www.ccsd93.com/MacPaymentPlan by February 21, 2023 to sign up for a payment plan consisting of four (4) equal monthly installments of $50, due by February 21, March 20, April 20 and May 19.

Payments should be made by debit card, credit card, cash or personal check at your child's middle school during school office hours. Debit and credit card payments may be submitted over the phone.

If you are unable to make payments during school hours, you may instead pay by cash or personal check at CCSD93's drop box at CCSD93's District Office (230 Covington Drive in Bloomingdale). In this case, payment should be placed in a sealed envelope with your child's full name and school ID number clearly marked on the outside and submitted by each month's deadline to the. The drop box is located next to the main entrance door.

Final payment plan installments cannot be made via check.
Computer Reset Drop Off & Pickup
Eighth grade students will return their computer to CCSD93 near the very end of the school year. Families of 8th graders purchasing the computer will then be invited to pick up the purchased MacBook after the conclusion of the school year at their child's middle school on a date to be determined later. Watch for more information on pickup nearer to the end of the school year.
For additional information, please contact CCSD93's Business Office at reply@ccsd93.com or 630-893-9393.