Serving Bloomingdale, Carol Stream, and Hanover Park
Return to Headlines
Community Members Invited to Give Input at Portrait of a Graduate Community Forum on 1/13/22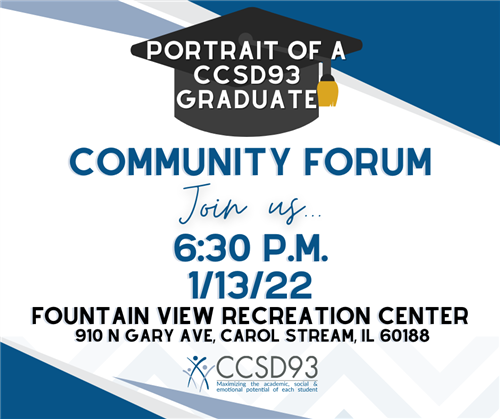 All community members within Community Consolidated School District 93 (CCSD93)'s boundaries and staff members are invited to a community forum on Thursday, January 13 at 6:30 p.m. at Fountain View Recreation Center (910 N. Gary Ave, Carol Stream, IL 60188) to provide input into the values, knowledge, skills and work habits students should have by the time they graduate from CCSD93 as 8th graders.

This is part of the school district's Portrait of a CCSD93 Graduate process, which will help to guide what and how students of all grade levels learn moving forward. In order to gain the most honest and unbiased feedback, CCSD93 is working with independent research firm Hazard, Young, Attea and Associates (HYA) to conduct this process. It features a wide array of opportunities for community input, including dozens of interviews; focus groups with more than 100 student, parent, staff and community member participants; surveys; and this community forum.

At the forum on January 13, attendees will receive a brief videotaped State of CCSD93 update from Superintendent of Schools Dr. David Hill. Following the video, HYA personnel will collect input from attendees on the aforementioned topics.

"It is vital to the success of CCSD93 that our community members play a role in framing a new vision for the district that reflects our collective aspirations for all students," said Dr. Hill. "This is a terrific opportunity for our stakeholders to have their voices heard and impact the future of CCSD93."

The Community Forum is free and open to all CCSD93 community members, whether or not you have children in CCSD93's schools. No RSVP is required. Masks and social distancing are required.

After the community input portion of the Portrait of a CCSD93 Graduate process, HYA will produce a resulting document that will identify the ideal attributes the community desires for CCSD93's students to acquire by 8th grade graduation. CCSD93 will then use this information to back map grade level benchmarks and guide the formulation of its next strategic plan, scheduled to commence in 2023 after being reviewed by CCSD93's Board of Education.

HYA has over 35 years of experience helping educational organizations across the nation chart a course for the future.