Serving Bloomingdale, Carol Stream, and Hanover Park
Return to Headlines
Save the Date - CCSD93 8th Grade Graduation 5/21/22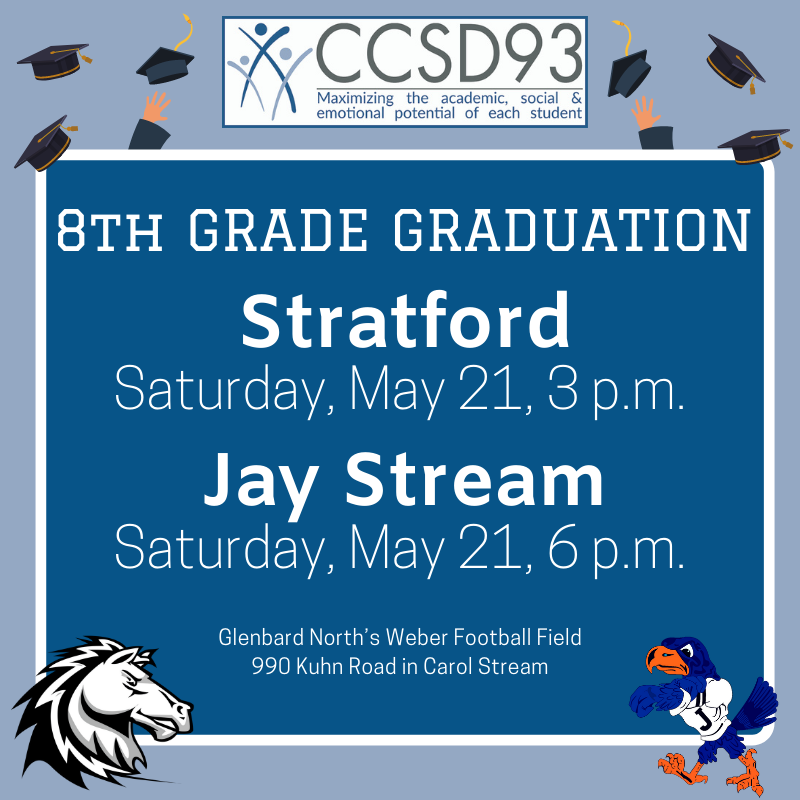 March 18, 2022
Dear Parents of Graduating CCSD93 8th Grade Students,
As we prepare to celebrate our 8th grade students' upcoming promotion to high school, I am excited to share with you that CCSD93 has collaborated with Glenbard North High School to hold graduation ceremonies on Saturday, May 21 at Glenbard North's gymnasium. Stratford's ceremony will take place at 3:00 p.m. Jay Stream's ceremony will take place at 6:00 p.m. Please save the date and time in your calendar.
Please also note:
Graduates are expected to arrive no later than 45 minutes prior to the start of their ceremony.

Due to potential parking constraints, we ask that families arrive in a single vehicle if possible.

In the event of rain or other inclement weather, the ceremonies will be held at the same date and time but will be moved indoors to Glenbard North's gym.
Please watch for more information from CCSD93 and your child's principal with more details closer to the event date.
Sincerely,

David H. Hill, Ed.D.
Superintendent of Schools
CCSD93
---
18 de marzo de 2022
Padres cercanos de estudiantes graduados de CCSD93 de 8º grado,
Mientras nos preparamos para celebrar la próxima promoción de nuestros estudiantes de 8º grado a la escuela secundaria, me complace compartir con ustedes que CCSD93 ha colaborado con Glenbard North High School para celebrar ceremonias de graduación el sábado 21 de mayo en el gimnasio de Glenbard North. La ceremonia de Stratford tendrá lugar a las 3:00 p.m. La ceremonia de Jay Stream tendrá lugar a las 6:00 p.m. Por favor, guarde la fecha y la hora en su calendario.
Por favor, también tenga en cuenta:
Se espera que los graduados lleguen a más tardar 45 minutos antes del inicio de su ceremonia.
Debido a posibles limitaciones de estacionamiento, pedimos que las familias lleguen en un solo vehículo si es posible.
En caso de lluvia u otras inclemencias del tiempo, las ceremonias se llevarán a cabo en la misma fecha y hora, pero se trasladarán al interior del gimnasio de Glenbard North.
Espeche para obtener más información de CCSD93 y el director de su hijo con más detalles más cerca de la fecha del evento.
Sincerely,

David H. Hill, Ed.D.
Superintendent of Schools
CCSD93